CNBC on Palm's Last Throw of the Dice
Tuesday, August 25, 2009 9:13:43 AM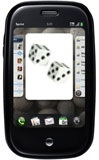 CNBC European Business has put out a new feature article entitled "Last Throw Of The Dice", focusing on Palm's phoenix-like rise from the ashes throughout 2009. There's plenty in here that us Palm-watchers already knew, but also a few interesting tidbits that we didn't.
Reporter John Brandon secured an exclusive interview with Palm's VP of Design and former Helio exec, Matías Duarte, who offers a few choice quotes regarding the Palm Pre's gestation, along with the usual round of guesstimates from analysts.
"We chose not to take the complexity of the desktop PC with all it's resizable windows and cram it into a phone. Nor did we believe that, because phones are small, you somehow want less of your internet life."
In designing the Pre, Duarte says the mission was to start over with a smartphone OS. Palm used a series of "mood boards" erected in each workspace. They posted a visual collage of nature photography, high-design furniture, and other stylish imagery. As they designed webOS, they would print out the screen and place it next to these photographs. If the screen design did not measure up aesthetically, they would start over. So far, the design has spurred vast media attention – and led to a limited inventory. Partnering with Sprint, Palm intentionally kept inventory low instead of manufacturing too many devices.
"Keeping up with demand is our top current challenge," says Sprint CEO Dan Hesse. "We have been able to manage the wait-time to about a week. Palm is producing Pres as fast as they can. We have also done minimal advertising so far, and we hope our new advertising will help keep the momentum going."
Article Comments
(29 comments)
The following comments are owned by whoever posted them. PalmInfocenter is not responsible for them in any way.
Please Login or register here to add your comments.