webOS Developer Application Basics Webcast Video
Saturday, September 12, 2009 9:37:32 AM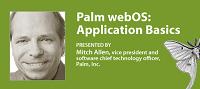 The good folks at O'Reilly Media have posted a video of their September 9 "webOS Application Basics" developer webcast, hosted by Palm Software CTO and webOS book author Mitch Allen. If you can ignore the scratchy audio, it's nice and informative and provides a decent introduction to webOS apps for the beginner, although there won't be too much that's new to those who've already read the O'Reilly book. We've posted the full Youtube embed after the break.
Additionally - and we must have missed this one when it popped up in July - Christian Sepulveda and Davis Frank of Pivotal Labs have hosted a developer webcast on Automated Unit Testing with the Mojo SDK. It delves into the topic of using the Jasmine Javascript testing framework, using the example of a basic Twitter application. webOShelp.net has an excellent, thorough summary of the presentation and Q&A at their site.
Article Comments
(13 comments)
The following comments are owned by whoever posted them. PalmInfocenter is not responsible for them in any way.
Please Login or register here to add your comments.