Sony Introduces Two Models with Keyboards, MP3 Players
Monday, March 11, 2002 12:06:43 AM

Update: Sony has announced that these models will be available in the U.S. in May.
Sony Japan has just introduced two new cutting-edge handhelds. The PEG-NR70 and PEG-NR70V both have built-in keyboards and 320 by 480 color screens. They also have built-in MP3 and ATRAC3 audio players. In addition, the PEG-NR70V has a built-in camera.
These have a clamshell design, with the keyboard on one side and the screen on the other. However, the screen can pivot around and then close again, this time with the screen facing out, allowing these to be used like a traditional handheld, with text entry done through a virtual Graffiti area.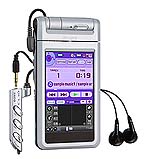 The screen doesn not flip all the way around like a note pad does. It opens, the screen rotates on an axis located just above the hinge, then closes back over the keypad. When the screen rotates, it's image automatically flips over so it is still upright to the user.
Frequent readers will recognize the NR70V as the one a Sony executive briefly showed off at PalmSource last month.
The 16-bit color Backlit TFT screen is 3.8 inches tall. When closed, both of these models are 5.4 by 2.8 by .65 inches. They weigh 7 ounces, including the stylus.
They are the first Palm OS models to use Motorola's 66 MHz Dragonball SuperVZ processor. They run Palm OS 4.1 and have 16 MB of RAM and 10 MB of Flash ROM.

Of course they have a built-in Memory Stick slot. They also have a Jog Dial and a Back button.
These have a built-in Lithium Polymer battery, which Sony estimates will last for 10 days, based on 30 minutes of use a day. They have an additional DSP chip for handling audio and this drains significant power. The company says these will last for 7 hours of music playback with the display off.
The PNR70V's camera is also on the hinge. It can take images with 100,000 pixels. It has a 1/6 inch CMOS Image Sensor and it can take pictures between 0.3 meters from the lens all the way to infinity. it saves images in PG Pocket format in sizes of 320x240, 160x120, or 88x88.
These models have the enhanced IR port from the T-series. They have other things in common with the T-series, sharing the same styli and HotSync port. This means the NR series should be able to use many of the same peripherals designed for the T series.
They also comes with ear-bud speakers and an audio control wand similar to previous Clié models with built-in audio players. Also like previous Sony models, the screen can be turned off while playing music. Because they use a separate DSP, the user can listen to music while using other applications.
In addition to software necessary to use the audio player and camera, they come with Documents To Go 4.0 Standard Edition to allow the user to access Microsoft Office files and Intellisync Lite for the Clié to synchronize with Outlook.
These handhelds have been introduced only in Japan. The NR70 will be available on March 23. The NR70V will be out April 13. There is no word yet on when they will be available in other countries.
The NR70V will sell for 59,800 Yen, or about $465. The NR70 will sell for 49,800 Yen, or $385. Again, these are the prices in Japan. They may or may not indicate what these will sell for in other countries.
Sony has also introduced the PEG-MSB1 Bluetooth Memory Stick .
Thanks to SaxonMan for the tip and Eugene for his translations. -Ed
Related Information:
Article Comments
(270 comments)
The following comments are owned by whoever posted them. PalmInfocenter is not responsible for them in any way.
Please Login or register here to add your comments.

Comments Closed
This article is no longer accepting new comments.

Only the first 50 comments are displayed within the article.
Click here for the full story discussion page...