Pre 2 and TouchPad Updates Rolling Out
Friday, December 9, 2011 10:21:49 AM
Every time HP announces a new update to their WebOS devices, the community breathes a collective sigh of relief that their devices are continuing to be useful and supported. So this week's news that a WebOS system update for both the TouchPad and the Pre 2 is definitely reason to smile.
First off, WebOSInternals has tweeted the news that select Pre 2 owners are reporting WebOS 2.2.4 is starting to trickle out. Skype support for non-VZW Pre 2 handsets is the main focus of this update, along with Bluetooth MAP support and sync improvements to the core PIM apps.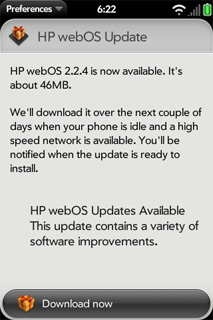 Also in the works is an imminent TouchPad OS update, this time to version 3.0.5, according to a source at PreCentral.net. Primarily a bug fix update, this new release isn't as monumental as the previous two TouchPad updates as far as new features and performance improvements are concerned. However, at this stage of the game, any OS update for a discontinued hardware platform is certainly cause for celebration.
The primary improvements in 3.0.5 for the TouchPad is a new "sensor API" for PDK apps, HTML 5 video support in portrait and landscape mode, and low disk space download alerts. HP is currently in the midst of finishing up testing for this release and no specific timeframe for its release has been announced.
Leave a comment...

Click on the
Start New Comment button
below to begin a discussion.
You must be
registered
and
logged in
to add comments.