HP Eventually Plans to Release New WebOS Tablets
Friday, December 9, 2011 1:28:06 PM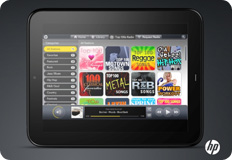 The dust has not even settled on today's mega-announcement from HP to open-source WebOS and we already have some new info straight from the mouth of CEO Meg Whitman and board member Marc Andreessen (of Netscape fame) regarding a possible return to WebOS hardware in the future from HP.
The Verge conducted a sit-down interview in with Whitman and Andreessen earlier today about the future of WebOS, both as an ongoing open-sourced project and as the possible basis for future HP Tablet hardware.
For the time being, only a few excerpts from the full interview have been posted. In short, Whitman stated that yes, HP would indeed be revisiting WebOS tablet hardware but stopped short of committing to it in 2012 or later. She went on to state that the team is going to be reorganized in "a quite different direction than we've been taking it in the past". Presumably this will be a much sleeker, highly-competitive piece of hardware compared to HP's mediocre TouchPad that was seemingly launched as a barely-updated response to the 18 month-old first-generation iPad.
Somewhat surprisingly, when asked about WebOS as the basis of new connected printers, Whitman was noncommittal and said that HP's near-term focus was on WebOS tablets. She did firmly state that it is unlikely HP will attempt to reenter the smartphone business, which is unsurprising. Prior to the Palm Inc. acquisition, phones were one area of the market where HP never had more than a very modest presence at best.
Article Comments
(44 comments)
The following comments are owned by whoever posted them. PalmInfocenter is not responsible for them in any way.
Please Login or register here to add your comments.