HP to Deliver Open WebOS 1.0 in September
Wednesday, January 25, 2012 12:12:09 PM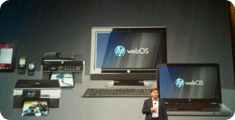 HP today made a number of announcements regarding its plans to open source the WebOS operating system. HP has released a detailed schedule for releasing components of the OS with the full source available by September.
In addition, the company has released version 2.0 of the Enyo developer tool. Enyo 2.0 enables developers to write a single application that works across mobile devices and desktop web browsers, from the webOS, iOS and Android platforms to the Internet Explorer and Firefox browsers – and more. The source code for Enyo is available today, giving the open source community immediate access to the application framework for webOS.
The webOS code will be made available under the Apache License, Version 2.0, beginning with the source code for Enyo. The Apache License, v2.0 is commonly used to govern contributions to open source software projects. It provides a legal framework that balances open innovation and a dependable user experience, which is consistent with HP's vision for webOS.
WebOS Roadmap
Over the first half of the year, HP will make individual elements of webOS source code available – from core applications like Mail and Calendar to its Linux kernel – until the full code base is contributed to the open source community by September.
Timing
Milestone/Code published
January
Enyo 2.0 and Enyo source code
Apache License, Version 2.0
February
Intended project governance model
QT WebKit extensions
JavaScript core
UI Enyo widgets
March
Linux standard kernel
Graphics extensions EGL
LevelDB
USB extensions
April
Ares 2.0
Enyo 2.1
Node services
July
System manager ("Luna")
System manager bus
Core applications
Enyo 2.2
August
Build release model
Open webOS Beta
September
Open webOS 1.0
HP has also published a blog post from Sam Greenblatt, the chief technology officer and head of technical strategy for the open webOS project. He provides some more detail on the announcement and explains more details about the release plans.
Article Comments
(3 comments)
The following comments are owned by whoever posted them. PalmInfocenter is not responsible for them in any way.
Please Login or register here to add your comments.