Whitman Talks About Future WebOS Plans in CRN Interview
Friday, February 3, 2012 3:37:10 PM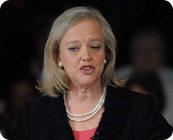 CRN has posted excerpts of a new interview with HP CEO Meg Whitman in which she reveals some insight regarding her stance on the future of WebOS.
On slide # 10 of the multi-page spread, Whitman firmly states that HP "(has) to have a tablet offering. We will be back in that business. We're coming back into the market with a Windows 8 tablet, first on an x86 chip and then maybe on an ARM chip. We'll see."
Slide #13 and #14 discuss HP's message to the remaining people on the WebOS team and the rest of high-profile departures, some of which we have recently covered. Whitman says that "This has been a very rocky period for the former Palm team/WebOS team that we built. And this was not a happy set of occurrences over the last six to eight months. So we have lost some people." She surprisingly even states that "Between August and November, there was no plan."
On slide #14, Whitman brazenly states that WebOS has "huge advantages" over iOS and Android, citing the closed nature of the former and the fragmented nature of the latter. Whitman goes on to say that the Google's pending acquisition of Motorola Mobility's handset division may ultimately make Android more of a closed system, something that is rather hard to imagine with Android hardware partners such as Samsung registering banner years for Android-powered devices.
Some additional insights to take away from the piece include the humanization of HP under Whitman, such as the elimination of the executive parking areas and the executive office suite and the company's assimilation of Autonomy in the aftermath of that huge acquisition.
Article Comments
(51 comments)
The following comments are owned by whoever posted them. PalmInfocenter is not responsible for them in any way.
Please Login or register here to add your comments.

Only the first 50 comments are displayed within the article.
Click here for the full story discussion page...