Sony Announces SL10 with Hi-Res Mono Screen
Monday, July 22, 2002 10:00:00 AM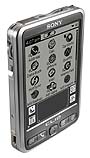 After having some info on it leaked on Friday, Sony officially announced the PEG-SL10 today. This is a low-end handheld, costing just $150. It has a 320 by 320 monochrome screen, which is an improvement on Sony's current low-end model, the S360, which has only a 160 by 160 monochrome one. It has other features typically on Sony's handhelds, like a Jog Dial with Back button and a Memory Stick slot for extra storage. It will be available sometime next month.
On one side is a USB port. It is very unlikely that the SL10 will be able to operate as a USB master, which would allow it to use USB peripherals itself, like keyboards. However, it should be possible to hook the handheld up to a standard USB hub to HotSync. The handheld might even appear as a removable hard drive. Details are still sketchy as Sony's official announcement and the webpage on SonyStyle on this model don't even mention the USB port.
The USB port isn't the SL10's only one. It also has the same HotSync port as on the T series. This means that all of Sony's handhelds will have the same connector for the first time since Sony introduced the T415 late last year. This will allow them to share many accessories, like keyboards and cables.
In order to cut costs, Sony had to make some compromises. The SL10 has only 8 MB of RAM, half that of the S360, the company's current low-end model. It also lacks an internal rechargeable battery. Instead, it uses AAA batteries. It also comes with a USB HotSync cable, not a cradle.
Incidentally, a Sony company spokesperson said officially that the SL10 will replace the S360, which will be discontinued.
The SL10 runs Palm OS 4.1 on a 33 MHz Dragonball processor. It has a 4 MB flashable ROM.
It is 4.1 by 2.9 by .66 inches. It can't be too slim because two AAA batteries need to be able to fit inside. It weighs 3.6 ounces without batteries. For comparison, the S360 is 4.6 by 2.9 by 0.59 inches and wighs 4.3 ounces.
Though the design is similar to the S360's, it isn't the same and the buttons have been changed. Fortunately, the SL10's new buttons appear to have nothing in common with the ones on the T series.
This handheld comes with Documents To Go Standard Edition, which will allow it to access Microsoft Word and Excel files. It also comes with PictureGear Pocket and can use Sony's PEGA-MSC1 Camera Module.
Related Information:
Article Comments
(235 comments)
The following comments are owned by whoever posted them. PalmInfocenter is not responsible for them in any way.
Please Login or register here to add your comments.

Comments Closed
This article is no longer accepting new comments.

Only the first 50 comments are displayed within the article.
Click here for the full story discussion page...