SanDisk Announces New Memory Products at CES
Monday, January 10, 2005 10:35:37 AM
SanDisk made a number of new flash memory product announcements in Las Vegas at the Consumer Electronics Show. The company showed a new line of cards for video games, a SD card with built in USB 2 flash drive and announced that their new TransFlash will be used in some upcoming feature phones.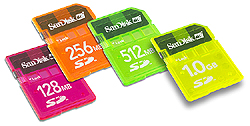 SD Video Game Cards
SanDisk Corporation (NASDAQ:SNDK) announced that it is entering the portable video game accessory market and introduced a line of flash memory cards targeted at the $25 billion dollar video game market. SanDisk's entry into the video game market comes as companies that manufacture portable video game consoles develop devices that include slots for standard flash memory cards. The company has adopted unique game packaging and redesigned the "look and feel" of the cards to spur sales among younger consumers.
SanDisk is initially is offering the new game cards in Memory Stick PRO Duo and SD, one of the most popular card formats. Sony's first handheld game device, the PlayStation Portable, has just been introduced in Japan and uses Memory Stick PRO Duo cards. International Data Corp., a leading market research firm, estimates that 8.8 million PSPs will be sold in 2005. Other popular portable game machines, such as the Tapwave Zodiac and the Gizmondo, have slots for SD cards.
The Memory Stick PRO Duo cards in game packaging will be sold in capacities ranging from 128MB to 1 gigabyte (GB) with suggested retail prices from $39.99 to $159.99. SD cards for the game market will be sold in several capacities from 128MB to 1GB with suggested retail pricing of $34.99 to $104.99. The cards will start shipping to stores this month.
New SD cards with built in USB 2.0 Flash Drives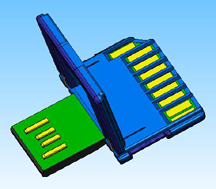 SanDisk introduced an innovative SD flash memory card with built-in USB connectivity. The new product means greater convenience and cost savings for consumers who can just plug the SD card into any SD card slot such as is used in most digital cameras, and then plug it into any USB port without needing an SD card reader to transfer data, images, audio or video between computers, digital cameras and other electronic devices.
Michael Morganstern, a SanDisk product marketing manager, said, "We developed a new mechanical design which allows us to fully contain a high-speed 2.0 USB flash drive within the small SD form factor. The innovative mechanical design eliminates the need for a removable cap, which can be lost, and results in a dual functionality card that is fully SD compliant. The device also features an LED that blinks when data transfer is taking place to indicate that the card is being used as a USB flash drive."
The first products to be released by SanDisk with this breakthrough technology are scheduled to be introduced in Q1, 2005. SanDisk will provide further product details at the annual Photo Marketing Association (PMA) show, Feb 20-23 in Orlando, Fla. At that time, SanDisk is expected to introduce capacities as high as one gigabyte.
Samsung Mobile, Motorola, and China's Amoi select TransFlash Memory
SanDisk also made the announcement that TransFlash, a fingernail-sized flash storage module, will provide expanded memory for a half-dozen full-featured mobile phones that are being introduced in Asia by major manufacturers Samsung Mobile, Motorola and Amoi Mobile.
Since phone makers are incorporating more multi-media features into their products – such as higher-resolution digital still cameras, video camcorders, television and MP3 music – many of the newest phones are being designed with slots for flash storage cards to meet the growing memory demands. As the smallest of these form factors, TransFlash allows manufacturers to provide removable memory that is compatible with any SD card-enabled device, through an adapter. TransFlash capacities range from 32 megabytes (MB) to 256MB.
Motorola is introducing the MS 400, another TransFlash-enabled phone, in the Korean market. This mini-slide phone has a camcorder function, MP3 player, organizer function, auto-answering, voice memo, speaker phone, e-book function and the ability to connect to a personal computer via a standard USB data cable. The TransFlash module is sold as an optional accessory.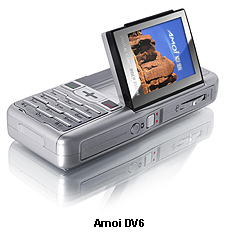 Amoi Mobile, one of China's largest consumer electronics manufacturers, plans to release four handsets with TransFlash slots, worldwide during 2005. Depending on the model, functions can include a 1.3-megapixel rotational camera, MPEG 4 video camera, MP3 player, USB storage with PC cable, e-mail capability, data storage software and Bluetooth. Among unique features, the DV6 has a pop-up LCD screen, the WMA9507 supports video telephony, and the G6301 has a hidden Qwerty form factor. The DV6 and the G6301 are EDGE phones while the 3G phones of WMA9507 and CMA8301 are both dual modes, the first combining UMTS (WCDMA) plus GSM/GPRS and the second combining CDMA2000 1X/ EV-DO plus GSM/GPRS.
Article Comments
(15 comments)
The following comments are owned by whoever posted them. PalmInfocenter is not responsible for them in any way.
Please Login or register here to add your comments.