SplashID 4 for Mac OS X Released
Thursday, March 27, 2008 3:08:12 PM
SplashData has released SplashID 4 Desktop for Mac OS X. This is the standalone desktop client that can also be used synchronize with SplashID on your device. SplashID safely and securely stores all of your personal identification information including user names, passwords, credit cards, calling cards, bank accounts, PINs, and more. Information is stored in a secure, 256-bit encrypted format. You can read our recent review of SplashID 4 for Palm OS.
The new Mac Desktop client is now a universal binary and is fully Leopard compatible. It features new views including panel and tree view, enhanced security features, web auto fill, an enhanced lookup feature and the ability to sync multiple SplashID databases.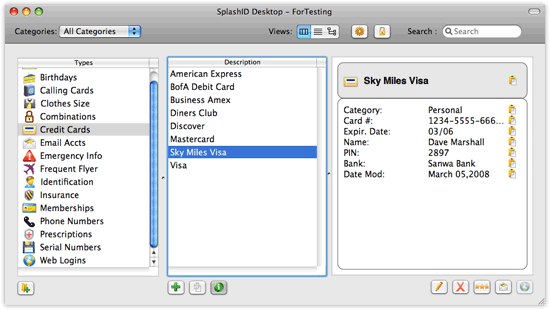 SplashID v.4.11 for Palm OS is available now for $29.95, a free 30-day trial version is available as well. It is also available for Windows Mobile.
You can get the Mac OS version directly from SplashData.
Leave a comment...

Click on the
Start New Comment button
below to begin a discussion.
You must be
registered
and
logged in
to add comments.