Survey Places Palm Well Behind RIM Among Enterprise Users
Sunday, March 2, 2008 7:17:19 PM
A new ChangeWave survey has been released indicating a groundswell in increased popularity among corporate customers for Research In Motion's BlackBerry platform. This gain for RIM comes at the expense of Palm's Treo smartphone line, which has plummeted to third place behind Apple and barely ahead of industry stalwarts Motorola and Samsung.
Of those surveyed, 73% claimed that a BlackBerry device was their company-issued smartphone of choice. Only 18% of the survey's respondents chimed in with Treo usage, dramatically down 10% from a year ago and down 5% since this past August.
In the area of user satisfaction, Palm again comes in dead last, just like in January's ChangeWave smartphone satisfaction survey. Here, the results flip-flop between Apple and RIM, with Apple taking the honors with the highest satisfaction ratings at 59%, RIM a moderately close second at 47%, and Palm coming in dead last at 10%.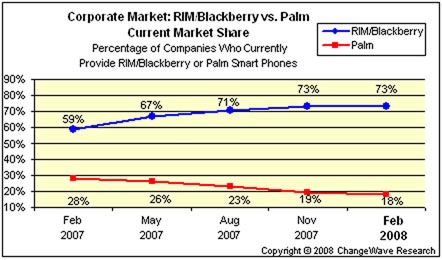 With a fading Palm OS product lineup and no clear release date for the new Nova OS in sight, Palm is looking to its Windows Mobile Treos to fill the void in an otherwise lackluster 2008. The surprise success of the entry-level, consumer-oriented Centro smartphone may also create a halo effect to boost the entire Palm brand. Unfortunately for Palm, it appears that few corporate buyers are awaiting the rumored Treo 800w, "Drucker" and "Wanda" Treos; just 8% of surveyed corporate buyers plan on future purchase of Treos for deployment within their companies. Smartphone upstart Apple is a distant second to RIM with 11% surveyed corporate buyers planning to purchase the decidedly corporate-unfriendly iPhone. Motorola, at 7% and Samsung at 4% are nipping at Palm's heels but also suffering a downturn at the hands of the BlackBerry juggernaut.
Palm's surprising lack of a Windows Mobile version of the Treo 755p combined with an unusually long delay in bringing a WM6 device with wi-fi and/or a 320x320 screen to market show that the company has not been aggressive in targeting the crucial corporate sector, especially in the midst of an economic downturn where consumers may balk at purchasing smartphones with personal dollars for use at work. Unlike Palm, RIM has improved in leaps and bounds over the past year or two by tweaking its devices to make them more compelling offerings for individual users by beefing up their multimedia capabilities and adding GPS integration to the Pearl while still passing muster in the corporate world with the global GSM/CDMA 8830 and wi-fi on select models.
Despite some recent widespread service outages that gave Palm's marketing department reason to take potshots at RIM's purported e-mail unreliability, Palm's downward slide in both user satisfaction and corporate adoption looks to continue with no end in sight, especially as the company digs in for a lean 2008 while furiously working on completing its Nova OS.
Article Comments
(30 comments)
The following comments are owned by whoever posted them. PalmInfocenter is not responsible for them in any way.
Please Login or register here to add your comments.