New Palm OS VoIP Application
Wednesday, August 23, 2006 10:33:26 PM
Articulation is a new VoIP application for the Palm OS from Hampton Software. It is compatible with most Palm OS 5+ devices with a microphone that can access the Internet via Wi-Fi/Bluetooth or EDGE/GPRS. Articulation is the first service independent VoIP phone for Palm OS, which means you can use it with a number of different VoIP service providers.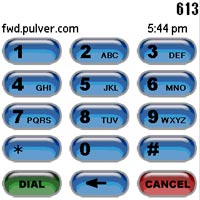 Articulation supports the standard SIP VoIP protocol. The app will work with the majority of SIP VoIP service providers and the developers have a list of confirmed compatible providers. At this time the program is not compatible with Skype.
There is a large selection of VoIP providers worldwide with very cheap rates when compared with most cell phone plans; it is often free to call some destinations and many do not charge a monthly fee.
Program Features:
- Ability to make PSTN calls with your PDA
- Select the SIP VoIP provider of your choice
- Lookup phone numbers direct from you contacts
- Touch-tones (DTMF) for 'phone menus'
- Supports WiFi, Bluetooth and EVDO connections
- Call timer
- Silence suppression (only transmit your voice)
- Echo cancellation for 'speakerphone' use

Technical Features:
- Secure account authentication with SIP MD5 Authentication
- Supports GSM and G711 codecs (GSM is suited to low bandwidth connections)
- NAT support through RFC 3581 and ability to fix ports for symmetric NATs
- Symmetric RTP support
- Low latency
- Low memory usage

Articulation has a 1 minute call restriction so you can test it out before purchasing. Registration costs £20.00 ($37.78 USD).
Article Comments
(18 comments)
The following comments are owned by whoever posted them. PalmInfocenter is not responsible for them in any way.
Please Login or register here to add your comments.