Treo 700wx Review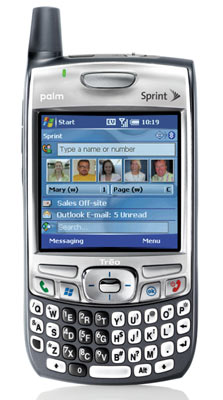 by: Ryan Kairer
October 24, 2006
The Palm Treo 700w/700wx is the first Treo smartphone to use Microsoft's Windows Mobile operating system. Nine months after debuting on Verizon, the 700wx is the first to become available on another carrier with one key additional benefit, double the operating memory. Palm's Treo 700w series aims to bring the Palm experience to Windows Mobile. It does so by combining the Pocket PC platform with a number of Palm smartphone innovations and broadband like data speeds.
Design
The 700wx is colored in the standard treo dark grey and silver color scheme. The 700w is distinguished by a slightly lighter grey shade on its casing. The body is a smooth hard plastic. The top of the device contains the antenna, memory expansion slot, IR window, the famous silencer switch and the stylus silo. The silencer is a very convenient switch that places the phone in silent mode and mutes the ringer and system sounds. On top front of the device above the screen are the LED and phone earpiece. On the Sprint version the LED is only used to indicate battery and charging status, it does not blink when connected or light up when you have new notifications. The Left side has a two small volume buttons and a side button. The backside contains the camera lens and portrait mirror, rear speaker grill and the removable battery cover.
Below the screen are the two soft keys, followed by the 5-way navigator and various shortcut buttons. In addition to the two soft keys, the Start menu and OK buttons help you navigate the device one handed. The green and red phone buttons initiate and end calls, while the red button also does double duty as the power and lock control. Most of the large buttons can be remapped, and the small button on the side below the volume keys can be customized as well, by default it launches the Media Player. In addition, you can setup additional button shortcuts by pressing the blue function key prior to the button.
The keyboard has square thumb keys in a smile pattern arrangement. The Treo keyboard can be very easy to use once you're comfortable with it and you might surprise yourself with how easy it is to type on. The backlighting on the keyboard and buttons is bright and consistent and the keys have a nice white illumination.
Size wise the Treo 700wx has physical dimensions of 4.4" x 2.3" x 0.9" inches (111 mm x 58 mm x 22.5 mm) and weights in at 6.4 ounces (180 g). It pretty much shares the same dimensions and weight as the Treo 650 and 700w.
At three years old now, the current Treo design is beginning to show its age, mainly because of its bulk. The size is mainly due to its large battery capacity and other more powerful features such as the touchscreen. Slimmer smartphones on the market now have to omit functionality and compromise on certain features in order to reach their slim profiles and as a result often fall short on battery life. The 750v showed that the next Treo incarnation would only be marginally slimmer, so it doesn't look like Palm is going to put the Treo on a diet any time soon.
Treo 700 series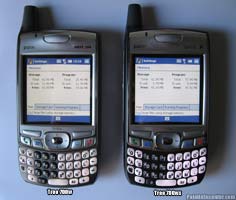 I'm sure a lot of people reading this review will be wondering what the main differences are between the Treo 700wx, 700w and 700p. The only difference from the 700w is the wx's doubled operating memory capacity and casing color. The Treo 700p runs a different operating system, the Palm OS. The 700p also has a higher resolution 320 x 320 pixel screen.
Hardware
The Treo 700wx is powered by a 312 MHz PXA270 Intel XScale processor. It has a total of 128 MB of memory, of which you can use 62 MB to store programs and data internally. Windows Mobile also uses a separate program memory space, which is similar to how RAM works on a PC. The 700wx features twice the available program memory as the 700w, with a total of 48 MB free after a reset vs. the 700w's 14MB. This makes a huge difference on Windows Mobile as programs have much more room to operate, which makes for an overall more responsive experience.
Programs aren't actually closed when you click on the X in the top right corner, though there are many third party apps that will do this for you. Rather running applications are "minimized" and will still run in the background taking up resources until the system see fit to close them. Due to the multitasking nature of Windows Mobile, you would notice a slowdown and lag on the 700w after browsing a few web pages, checking email and then trying to use an Office app. The situation could cause the device to become sluggish or even freeze up when you run short on space. So the additional memory does a lot to help performance and stability.
Display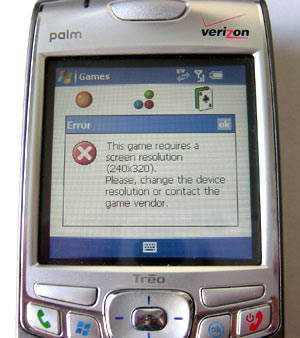 The Treo 700wx has a 2" x 2" inch square touchscreen display. It is a 240 x 240 pixel TFT screen that supports 65,000 colors. The display is plenty bright, even at the middle levek, and holds up well outdoors and in direct sunlight. Being a long time Palm OS users who is used to the larger 320 x 320 display, I definitely found the screen to be a downgrade. I also think that Microsoft wastes a large amount of screen real estate. It's really more like a 240 x 200 display with the ever present title bar and huge softkey space across the bottom of the screen.
There are some aspects to Windows Mobile that can help to make up for the smaller size. There is a system wide font size, and if you have good eyesight, you can set it to its smallest size to fit a lot more text on the screen. You can also enable ClearType, which does nothing for the size, but aliases the text so it looks a lot smoother and can be easier on the eyes for extended reading. Internet Explorer also has a decent full screen mode, which will let you browse without all the oversized toolbars and softkeys. IE also has a 5 zoom levels from largest to smallest, which allows you to adjust the size of text when surfing.
Most Windows Mobile apps will work ok with the smaller screen size. For years the Pocket PC default size has been 240 x 320. Many games, especially older ones, assume this size any will not run on the smaller screen. Fortunately, many popular apps and games have been updated to work with the new screen sizes, though I had a lot of trouble with finding compatible Pocket PC games.
Phone
The Treo 700wx phone uses CDMA wireless technology (850/1900MHz digital) and supports EvDO high-speed wireless data. EvDO allows for data speeds around 10x faster than previous 1xRTT rates and is backwards compatible. The carriers claim that EvDO speeds average around 400-600k, though you are more likely to see around 250-500k. In my area I get about 2-3 bars of coverage, and generally saw speeds of around 300-400k using mobile speed tests. EvDO also allows you to receive calls while the Internet connection is active, on older 1x CDMA devices the phone would not accept calls when actively using the data connection.
You can use the Treo 700wx as a wireless modem for your laptop or desktop computer. Not all carriers may support this feature, and some might even require you to purchase a additional DUN or wireless modem data plan. Sprint does charge extra for this feature and only supports Dial-Up Networking with Windows XP/2000. Fortunately, the included USB cable will trickle charge the Treo when in use, so you don't have to worry about draining the battery when using it in DUN mode.
Memory Expansion
The 700wx includes a standard SD slot for memory expansion. It is FAT32 compatible and will work with the latest 2 and 4 GB SD memory cards, though not the newer SDHC cards. The slot is SDIO compatible and unlike the 650/700p, does support Wi-Fi SD cards. The drivers for Palm's own WiFi SD card are even built in.
Bluetooth
The 700wx also has integrated Bluetooth wireless technology. This allows for accessories such as wireless Bluetooth headsets, GPS navigation kits and using the 700w as a wireless modem for your laptop. The v1.2 spec allows for faster device connections and adds the ability to use Bluetooth devices concurrently. For instance, you could keep a headset connected at the same time you have your Bluetooth GPS running. You can also sync with your PC over Bluetooth with Activesync. Unfortunately, Bluetooth A2DP audio is not supported and you still need a 3.5" mm stereo adapter if you want to use regular music headphones.
Camera
The 700wx includes a 1.3 megapixel digital camera on the top back side of the device. It can take photos at a max resolution of 1280 x 1024 and has a 2x digital zoom. It can also record video clips with audio at a 352 x 288 resolution. A camera-less version is also available from Sprint. The camera quality is pretty standard for a phone-cam. Outdoor scenes and good natural lighting conditions will give you the best results. Indoor shots also require a lot of light and can get a little blurry and grainy at times. Low-light and nighttime shots are generally very poor and dark. You can manually adjust the brightness settings by pushing right or left on the d-pad, and the program will let you save to pics internally or to an SD card. Here are a few unedited example pics shot with the 700wx (click for fullsize):
Battery
The battery is a 1800 mAh Li-ion rechargeable battery that can be removed via the cover on the back. The cover also hides the reset hole, which can be activated with the stylus tip. Additional spare treo batteries are available for $24.95 USD each. A 2400 mAh extended life battery is available for $39.95 that gives you approximately 33% more life.
The official battery lifetime is rated at 5 hours talk and 300 hours standby. During times of heavy web and Internet usage with a number of phone calls throughout the day and with Bluetooth on, I am able to get roughly a full day and a half of usage on a single charge. With more casual use I could go for roughly 2 and half days per charge. EvDO use seems much more power hungry and with a lot of net usage I saw my time between charges drop. Bluetooth can also be a big drain so be sure to keep it off when not in use. Overall, I felt that battery life was a bit under par when compared to the Treo 650. I also felt I got better battery life out of the 700p than with the 700w, but battery life varies greatly with how you personally use the device and wireless features.
Software
The Palm Treo 700wx runs Microsoft's Windows Mobile 5 OS Pocket PC Edition. The on-device version number is 5.1.195 (Build 14929.2.2.1). Windows Mobile has come a long way in its lifetime and this latest version is the easiest to use to date. Palm took it upon themselves to add their own touches to Windows Mobile, which add a number of improvements that make for a much better smartphone experience.
Palm experience on Windows Mobile
Most of the Palm enhancements can be found on the Today Screen, which is the main starting point on Windows Mobile. The today screen features a number of plug-ins that will show the date and time, upcoming appointments, email and message counts. Palm added a great deal of functionality to this area with their own plug-ins. Palm brought over their innovative contact dialing system, so you can find and sort large contact lists and narrow down to a single name and number just by typing a few letters of the name. My favorite feature is the ability to search the web right from the today screen. A built in search bar takes your queries right to Google's mobile optimized search results. There are also a vast number of third party plugins that can add some cool features such as displaying the weather forecast, and live rss feeds on your today screen.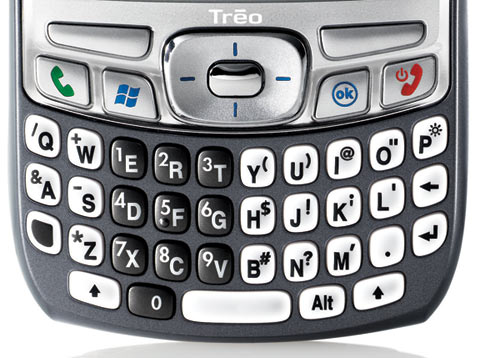 There are also some nice call management features. When calling your voicemail system, there are VCR-like icons for saving, delete, rewind, fast forward, etc so you don't have to memorize all the numerical controls. The Sprint version adds small icons for mute and activating the speakerphone when on a call, something the 700w lacks and has buried in the menu. Other nice touches include a photo dialing shortcuts, and the ability to iignore incoming calls via SMS by sending them a quick text message when the call comes in.
One thing I find frustrating is that you can't launch programs from the today screen without installing a third party plugin. Yes, you can jump to the Calendar by clicking on the appointments bar (if enabled) and the same with messaging, but you can't setup your own custom app shortcuts. You have to stick to the start menu and programs list in order to launch and access most programs.
The Treo does pretty well with one handed navigation, although there are some shortcomings. You definitely won't be using the stylus as often as you would on a PDA, as there are tons of keyboard and soft-key shortcuts to help you out. But compared to the Palm OS, one-handed navigation is just not as easy with Windows Mobile. There are lots of menu's and pull downs that you can't access with the d-pad and more often than not forms and input boxes would not respond to the navigator either. There were lots of cases where I had to poke the screen with my finger or pull out the stylus in order to move the cursor or select something from a pull down menu. The 700wx simply fails to come close to the Palm OS Treo's level of gracefulness in one handed operation.
The 700wx includes the usual assortment of the standard Windows Mobile productivity and entertainment software including Word, Excel and Powerpoint Mobile, Bubble Breaker, Calculator, Cubis, File Explorer, Goodlink, Internet Explorer Mobile, Messaging, Microsoft Outlook Mobile, Phone, Pictures and Video, Picsel PDF Viewer, Pocket MSN, Quick Tour, Search, Solitaire, Sounds Manager, a Terminal Services Client, Voice Command and Windows Media Player 10 Mobile. There is also avast amount of third party software you can download and install, the PalmInfocenter store carries a large amount of Treo compatible Windows Mobile software.

Push Email
A major feature of the 700's email capabilities is the built in support for Microsoft's push email technology. This solution requires Exchange Server 2003 with Service Pack 2 and gives users automatic wireless updates of their email, calendar items, contacts and tasks. The Sprint 700wx also includes a link to download Good Mobile Messaging. Good's software also delivers real-time access to push-based email, calendar items, contacts, notes and tasks. It also supports Good Mobile Defense for robust security and fleet management, as well as Good Mobile Intranet, giving users access to web-enabled enterprise systems, including sales force automation (SFA), customer relationship management (CRM) and corporate intranets. The built in messaging app also handles POP3 and IMAP accounts such as Hotmail, Yahoo!, AOL, Gmail and other providers.
ActiveSync v4.2 is the main apparatus for syncing to a computer and installing programs. A word of advice... make sure you install ActiveSync before connecting the Treo to your computer or you're in for a world of pain getting the device setup. Once ActiveSync is installed it runs in the background and syncs whenever you connect to your computer. You can also setup a wireless sync over Bluetooth. Microsoft also includes a full working copy of Outlook in the package, for those without Microsoft Office. If you're a Mac user, you will have to purchase and rely on Mark/Space's Missing Sync for Windows Mobile ($39.95) for your syncing needs.
Conclusion
Personally, I'll be sticking with my Palm OS Treo as I find that the Treo 700p and 650 are just much more easier to operate. Even with some of the Treo's features ported over, Windows Mobile still can't match the one handed abilities and the simple elegance of the Palm PIM programs and general intuitiveness found in many Palm OS applications.
That said, the Treo 700wx is a very powerful smartphone. I have to say its the best Pocket PC device that I've ever used to date. Windows Mobile fans will find a lot to like with the Treo. Palm's customizations vastly improve the phone features and bring some cool and add some very useful functionality to Windows Mobile. The combination of a multi-tasking OS and a high speed data connection really let you tap into the power of mobile computing.
Article Comments
(26 comments)
The following comments are owned by whoever posted them. PalmInfocenter is not responsible for them in any way.
Please Login or register here to add your comments.