TomTom Navigator 6 Updated Maps Review
By: Kris Keilhack
January 24, 2007
Ordering Process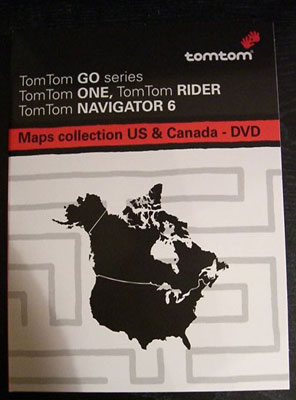 Itís no huge secret that I was completely delighted with the added functionality and user friendliness of TomTomís latest Navigator 6 software, as found in the Palm GPS Navigator Smartphone package (reviewed here). So it goes without saying that I thrilled to see the gigantic green advertisement last month on TomTomís US website proclaiming ďfreeĒ maps upgrades. I was even more thrilled when I saw that I was eligible for a free (well, after paying $6 for shipping) DVD containing the new USA & Canada maps. Despite being soured on the fact that TomTomís online store only accepts PayPal, I placed my order, assuming Iíd have to wait out the full 3-4 weeks for delivery as advised by TomTomís confirmation screen.
One of the more pleasant surprises of late occurred when I opened my mailbox after a little over one week to find an envelope from TomTom! The single DVD comes packaged in a nicely printed foldout sleeve and its data is applicable to all current, updatable TomTom devices; GO, ONE, RIDER, and Navigator 6.
The documentation printed within the DVD folder is just a pictograph schematic with a modicum of information. Iíd like to have seen a getting started guide of some kind for the novice users out there.
Installation
I inserted the TomTom DVD into my PC and installed the app. Being familiar with the previous version of the TomTom desktop software, I already had my SD card out of my Treo and in my PCís card reader drive. I selected my regional maps and the program automatically knew which drive letter was my SD card. Installation was speedy and trouble-free. In fact, the whole process was painless until it came time to actually activate the new maps on the Treo. I had to go to www.ttcode.com and manually activate everything since TomTomís automated system appears unable to process the newest product codes. I had this problem a few months ago when I was trying to activate my pre-release copy of Navigator 6. The automated system did work, however, when I purchased my own personal copy of the Palm GPS kit in December.
Initial Testing
My initial, localized testing of the new maps has shown them to be very up-to-date. As an example, my houseís street was initially built in 2004 and completed in 2005. Itís represented in full on these latest maps, as are several new restaurants, shops, a gas station that changed franchise affiliation a year or so ago, and some new area attractions. I have not yet had an opportunity to take the new maps on an out of town trip but the initial signs just from local usage are overwhelmingly positive. Having gone from the relatively ancient Navigator 5 maps, to the initial Navigator 6 release maps to these new 2006 maps in less than a yearís time has truly made me appreciate the value of keeping the map data up-to-date on my Treo. I can imagine that European users would not have as pressing of a need to upgrade maps on an annual basis as American Road Warriors who have to battle urban sprawl and a constant influx of new roads, businesses and attractions when traveling.
Pricing and Eligibility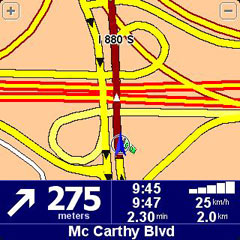 It is my understanding that TomTom Navigator 6 users (any flavor) are eligible for the free map updates while owners of TomTom Navigator 5 can purchase the new maps for ~$50. Several members of the TreoCentral forums have actually reported that they just purchased the new maps to use with Navigator 5 but received the same DVD as I did. So an unexpected benefit of paying for the revised maps is a ďquietĒ upgrade to Navigator 6 in the process. Iím not sure if this is an official part of the upgrade or not, so your mileage may vary.
All owners of the recent Palm GPS Navigator Smartphone Edition as well as users of the map data found in the initial release of Navigator 6 should register for the free DVD post-haste. TomTomís promotional pricing ends March 31st 2007.
Pros:
Fast shipping from TomTom
Map disc contains latest TomTom Navigator 6 Palm OS client software (6.01)
Good packaging and the printed registration code card is a very nice touch
Maps are VERY accurate and up-to-date.
Cons:
Documentation, both printed and disc-based, could be much more comprehensive.
TomTom accepts only PayPal as a payment method for their e-store upgrades.
Still no sign of an updated Navigator 6 client for the newest Palm devices to add support for the Treo 680, 700wx and 750.
My Rating:

4.5 / 5
Article Comments
(33 comments)
The following comments are owned by whoever posted them. PalmInfocenter is not responsible for them in any way.
Please Login or register here to add your comments.