Palm Q4 FY07 Conference Call Highlights
Thursday, June 28, 2007 3:22:38 PM
Palm Inc today reported its fourth quarter fiscal year 2007 results and held its quarterly conference call with investors and analysts. Palm's CEO Ed Colligan went over the results and provided updates on Palm's business strategies and future products.
Read on for my summary of the call and notes from the call.
CEO Ed Colligan began the call stating he was pleased with the 34% growth in year over year smartphone sell-through. Smartphones make up 80% of Palm's revenues now. 750,000 Treo's made their way into customers hands this past quarter. Smartphone sell trough was a very modest 3% increase from the previous quarter, but was still a record high for the company. Smartphones now represent 80% of Palm's overall revenue.
The fourth quarter saw continuing declines in Palm's handheld business. There was a 37% decline in year over year handheld revenue and Palm expects that trend to continue going forward. 314,000 handhelds were sold during the quarter.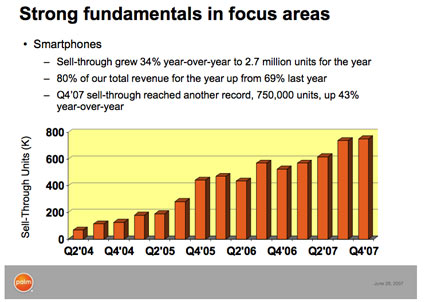 International sales growth was flat from the previous quarter. 24% of revenue came from International sales, while 74% was from the US.
Foleo
Colligan stated that he was very confident in the future potential of the Foleo product line. He remarked that while today the Foleo is a smartphone companion product, he says 'tomorrow' it will represent a full fledge mobile computing platform as the line grows. He, as well as Hawkins, strongly believes that this will be another major growth category for Palm, and the dawning of another major design era of mobile computing.
He went on to say how the industry 'pundits' have given the device mixed reviews, however he has seen an overwhelmingly positive response and demand from customers. He said Palm is on track to deliver the Foleo this quarter, as Palm has previously said it would be available sometime this summer.
Restructuring Efforts
Colligan announced some new long term planning changes around a recent internal restructuring effort at Palm. The company is being reorganized around two distinct product groups -- A Windows Mobile division that will take on a more ODM focused model in developing Windows Mobile based products; and a Consumer group responsible for Palm OS, Foleo and other consumer and small business products.
More effort is being focused Windows Mobile products, which now make up roughly 50% of the Treo smartphones sold. Palm intends to better leverage their brand and partner relationships while working more closely with its ODM partners, which mostly specialize in Windows Mobile. Products will still be designed internally at Palm, but more 'execution of the products' will be done in conjunction with ODM partners. Ed believes this will enable Palm to get a broader range of solutions to market faster as they are seeing more demand for Windows Mobile based solutions.
Colligan also talked about the recent job cuts. Approximately 100 people were laid off. The efforts were focused around flattening the management structure and improving efficency and effectiveness. Palm now has around 1,100 employees. Palm is also consolidating its email and messaging division back to Sunnyvale, and is closing down the facility which operated in Andover, MA.
Future Products
Some hints of future products and release timing were discussed. Colligan promised a range of new smartphone products in Fiscal 2008. He also mentioned that new devices using both Windows Mobile and Palm OS were due before the end of the year.
When asked when the next-generation Linux based platform would be ready, Colligan remarked that products based on this new Linux OS would debut sometime in calendar 2008.
Finally, I will leave you with Colligan's remarks on the impending iPhone launch in response to a question about how the iPhone would impact the guidance for the next quarter.
Article Comments
(65 comments)
The following comments are owned by whoever posted them. PalmInfocenter is not responsible for them in any way.
Please Login or register here to add your comments.

Only the first 50 comments are displayed within the article.
Click here for the full story discussion page...