2nd Chapter of Developing for WebOS Now Available
Thursday, March 19, 2009 11:29:03 AM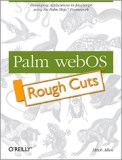 Palm has posted the second chapter of the Rough Cuts version of Palm webOS: Developing Applications in JavaScript using the Palm Mojo Framework. The preview version of the book is now available electronically in .pdf format from O'Reilly to customers who pre-ordered the book or purchased online access.
The book is the official guide to building native JavaScript applications for Palm's new webOS mobile operating system. Written by Palm's chief technology officer Mitch Allen and the Palm webOS development team, the book aims to offer a complete tutorial on the design principles, architecture, UI, tools, and services necessary to develop webOS applications using the Mojo JavaScript framework and Palm's SDK.
Via Palm's PDN blog post, the second chapter is titled "Application Basics" and shows the reader how to create their first application and discusses many of the underlying philosophies of programming in Mojo and webOS. This chapter includes the material on which Mitch's recent development webinar was based, but goes into more detail and shows more of the coding details of programming a webOS application.
Leave a comment...

Click on the
Start New Comment button
below to begin a discussion.
You must be
registered
and
logged in
to add comments.