TealWheel v1.0 Released for Palm OS
Thursday, May 7, 2009 11:07:46 AM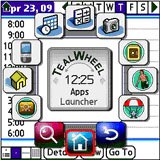 TealPoint Software has released version 1.0 of its new TealWheel popup application launcher for Palm OS devices. TealWheel works much like the wave launcher in WebOS (and the former TealOS). It allows you to bring up your own custom set of app shortcuts with application previews from anywhere within the OS. It also keeps automatic history lists, has support for up to 5 independent icon wheels with 12 icons each. The app is also very finger friendly and has many other various special device control functions built in.
TealWheel Popup Launcher v1.00 is available now for $14.95 and it comes with a free trial period. It is compatible with devices running Palm OS 5.0 or higher.
Leave a comment...

Click on the
Start New Comment button
below to begin a discussion.
You must be
registered
and
logged in
to add comments.