A Look at the New Features of webOS 1.1
Friday, July 24, 2009 11:57:52 AM

On top of Palm's official release notes, the new webOS 1.1 update for the Palm Pre also includes a number of undocumented new features and modifications. The changes range from extremely subtle UI tweaks to totally new options and behaviors.
Some of the more noticeable points include: new animated drop down menu's, a new system font for the browser, improved scrolling and zooming behavior, modified notification sounds and overall performance enhancements. Read on as we point out and go over many of the additional functionality.
New NFL App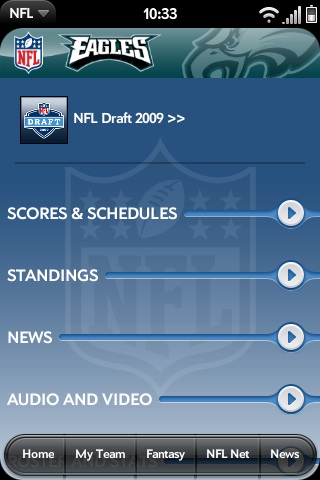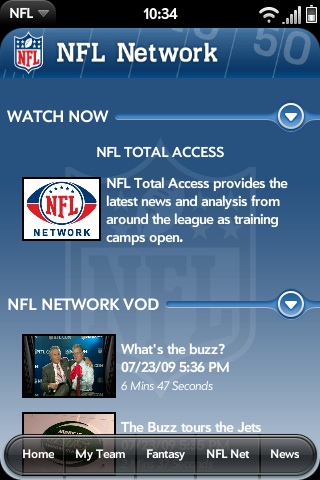 The update installs a new application from Sprint titled simply "NFL." It provides game day stats, scores, standings and will offer live audio broadcasts of every regular season game, 8 live video NFL games and more once the season begins.
Animated Drop Down Menu's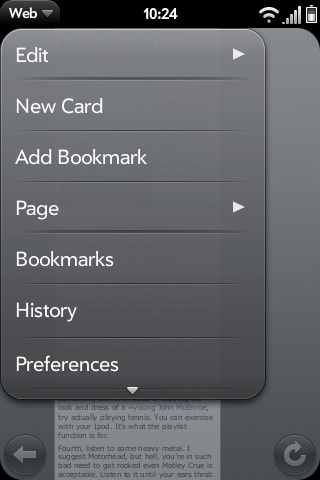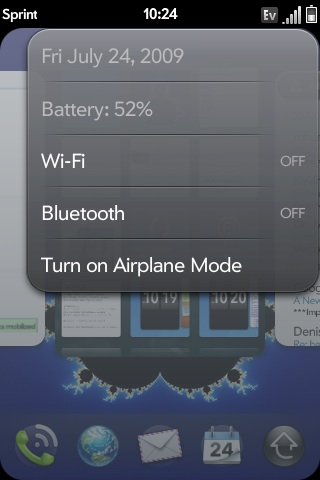 The menu drop down system has been given a subtle spruce up. Menu's will now quickly slide down from the top, while the background is grayed out. It's a minor thing, but it feels a little more elegant modern.
New Browser Font, Features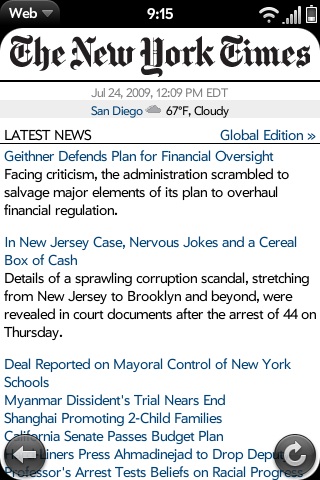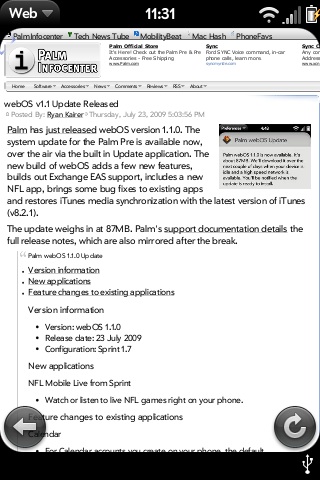 Overall the browser has been tweaked a good deal in this update. The changes are subtle but make a big difference. First off, it feels a good bit speedier and reportedly offers improved javascript performance as well. Scrolling pages and double tapping to zoom in feels much smoother. It's also much easier to tell when you have clicked on a link.
A new "forward" gesture (the opposite of back) will help you navigate through your history. Unfortunately, there is still no way to quickly jump back to the top of a page and the lack of a scroll bar indicator can leave you wondering actually how long the page is and where you are within it. While I'm at it I'd also love to be able to bring up the bookmarks with a special gesture someday.
| | |
| --- | --- |
| Old (webOS v1.0.x) | New (webOS v1.1.0) |
The new Palm font, Prelude, is now used exclusively for all text in the browser, no matter the css/tag declaration. It certainly is a bit more readable, however its attractiveness is quite subjective. Above you can see how PhoneFavs.com rendered before and after the update. Dropping custom fonts seems like more of a step back than an improvement to me. Palm has also dropped the hold the orange key and spacebar to open a link in a new card. (why?)
Photo App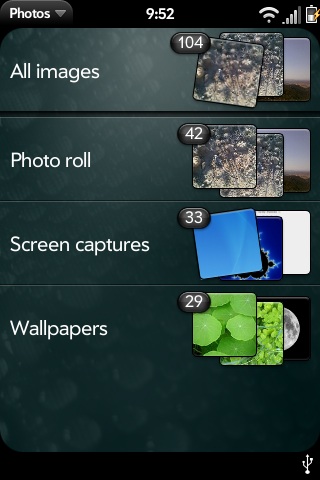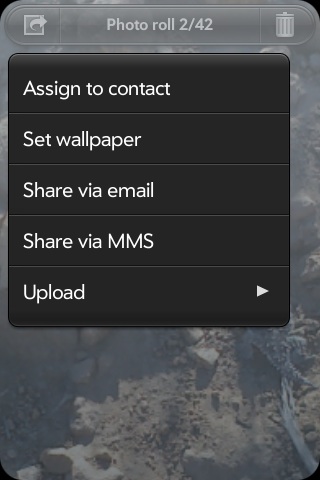 Palm has made some good improvements to the Photo application. It seems a tad feaster, but still takes a couple of seconds to fully decode photos (even ones snapped by the Pre.) The photos now slide in from the left as the app loads, and transitioning between pics feels a bit speedier.
Memo's & Email Improvements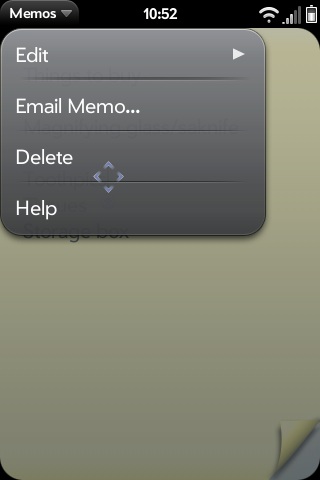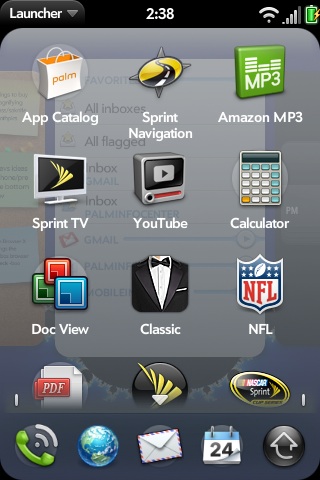 You can now email a memo easily from the drop down menu. This will automatically load the text of your memo into a new email. Still no ability to sync. The number of system word auto complete/corrections has reportedly been expanded.
In addition to the Microsoft Exchange updates, the email client has been given a few minor GUI touchups. It will now show flagged and reply icons next to emails that have been responded to/flagged.
App Catalog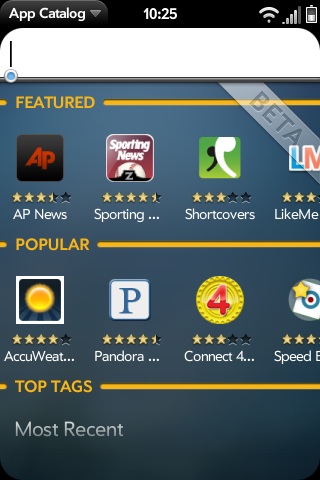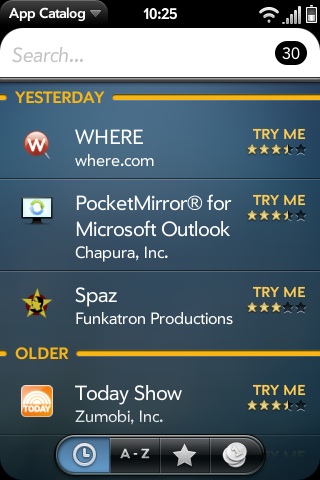 Not much new here as far as we can tell, but there may be a good amount of hidden developer features we don't know about yet. However, the App Catalog still reports itself as "BETA" and is still capped with the original 30 third party launch applications.
Overall System Stuff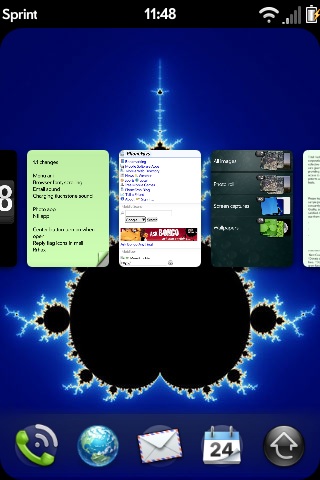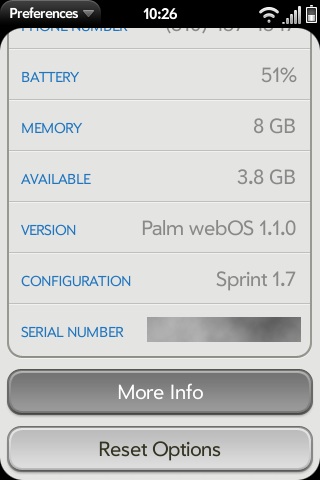 Palm has also changed a few of the notification sounds, however you still can not change the sound on your own. The new email sounds is a little more subdued while the Touchstone charging alert sound is a little less clanky.
Another nice hidden feature Palm snuck in is the the ability to use the center button to turn the Pre on when the slider is open. I'm still hoping for an option for this to light up when you have new notifications, but this is a good start.
Overall, webOS v1.1 is a nice incremental update. The system as a whole seems a little more stable and snappier and many of the above mentioned changes are more than welcome. There is still a good deal of more improvements I'd like to see in the future, but it is encouraging to see Palm actually release significant updates so often and early into the Pre's lifetime.
Article Comments
(11 comments)
The following comments are owned by whoever posted them. PalmInfocenter is not responsible for them in any way.
Please Login or register here to add your comments.