Sony Officially Announcing T615C and S360
Tuesday, January 15, 2002 9:00:00 AM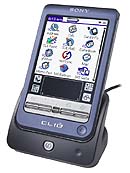 Ending months of rumors and speculation, Sony is announcing two new additions to its line of handhelds today: the PEG-T615C and the PEG-S360. The star is sure to be the T615C, with its 320 by 320 pixel, TFT 16-bit color display and 16 MB of RAM. Despite this official announcement, Sony still has not specified an exact release date, only saying that it will be available later this month for $400.
The S360 has a 160 by 160 monochrome screen but also sports 16 MB of RAM. It will be available in February for $200.
Sony will soon be taking pre-orders for both these models on its website.
PEG-T615C
The T615C has two possible colors, which Sony calls royal blue and brushed silver. The casing for both is made of aluminium.
It's designed with the same general styling as the T415, though it is slightly thicker. Still, the T615C is the thinnest color PalmOS handheld available. It is 4.65 by 2.83 by 0.50 inches and weighs 4.9 ounces, including the stylus.
It has other things in common with the T415, as they both have an enhanced infrared port. This allows them to be used as a Universal Remote with an included application. It has a range of up to 15 feet.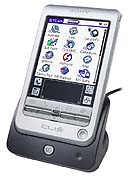 Again like the T415, the T615C has a high-quality speaker, at least when compared to the average Palm OS device. With it, users can convert MIDI or WAV files on their desktop and then play them on the handheld. This is also designed to improve game-playing.
As the T615C is a Sony handheld, of course it has a Memory Stick slot, though it doesn't come with a Memory Stick. It also has a Jog Dial. It runs the Motorola DragonBall 33 MHz processor.
It comes with applications designed for business users and home users, too. For business users, it includes Documents To Go Standard Edition from DataViz and Presenter-to-Go from Margi Systems.
For home users, in addition to the universal remote application, it also comes with apps for showing movies, displaying photos, and Clié Paint, a mini image editor.
PEG-S360
Hopefully not lost in the shuffle is the S360, which while much less exciting than the T615C, will almost certainly outsell it. It's a replacement for the now-discontinued S320 and will be a very competitive low-end model, as it compares favorably to many higher-priced mid-range handhelds.
There are no cosmetic changes between the S320 and the S360. It even still runs OS 4.0. Still, its one change is a big one: the increase to 16 MB of RAM.
It is 4.63 by 2.88 by 0.59 inches and weighs 4.27 ounces, including the stylus. The S360 is powered by an internal rechargeable battery and has a 33 MHz Dragonball processor.
Like the T615C and all of Sony's other models, it comes with an application to display pictures, though naturally these don't look as good in monochrome. Business users aren't ignored either as it includes Documents To Go Standard Edition from DataViz. This allows it to work with Microsoft Office Documents.
Related Information:
Article Comments
(242 comments)
The following comments are owned by whoever posted them. PalmInfocenter is not responsible for them in any way.
Please Login or register here to add your comments.

Comments Closed
This article is no longer accepting new comments.

Only the first 50 comments are displayed within the article.
Click here for the full story discussion page...