Treo 500 Due This Week
Monday, September 10, 2007 4:02:01 PM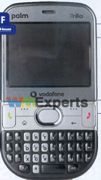 WMExperts has posted new information on the Treo 500 (aka Gandolf) first leaked here back in June. The site has a new photo that looks similar to the recent black Centro images. They claim that it will in fact be called the Treo 500v and is what will be announced on Sept 12th. As the "v" suffix suggests, it's coming to you via Vodafone, Palm's previous partners-in-crime on the Treo 750v. Like that device, it features a 3G UMTS radio and should be upgradeable to HSDPA - if it isn't already included. It is also said to include a 240x320 non-touchscreen display, a 2 megapixel camera and a microSD expansion slot.
Contrary to previous speculation, it appears this mystery device is not going to come in Palm's new, smaller Centro form factor, but will be a larger variant thereof - somewhere between the Centro and the new 680/75x style.
Style-wise, the 500v will see the return of the "straight" QWERTY board of the Treo 600 (abandoning the "smile" design of the Treo 650 onwards) and has rearranged the application buttons. Like the Centro, it also features a new circular D-pad that was last seen on the ill-fated Mobile-Manager-that-must-not-be-named. (Okay - quietly, now - it was the Lifedrive.)
No screenshots have emerged as of yet, but it's likely to include Palm's usual repetoire of WinMob UI enhancements and plugins.
Article Comments
(44 comments)
The following comments are owned by whoever posted them. PalmInfocenter is not responsible for them in any way.
Please Login or register here to add your comments.