First All Touchscreen webOS Handset Spotted
Wednesday, April 6, 2011 3:31:58 PM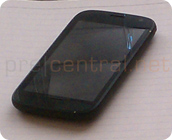 After a period of relative inactivity in the world of WebOS hardware rumors, Precentral has emerged with a huge scoop of the first WebOS smartphone without a physical keyboard. The typical grainy, low-res blurrycam is unfortunately in full effect, but a handful of details can still be gleaned from the leaked image.
The device resembles any of the other hundreds of slate-style black slabs on the market, albeit with no visible hard or capacitive buttons. There does appear to be a sensor for either a front-facing camera or a light/proximity sensor. If the gesture area has been retained, it has been relegated to a very small strip below the screen. Otherwise, this will presumably be the initial HP smartphone of a new crop of "gesture area-free" Enyo-ified device along the lines of the upcoming TouchPad tablet running WebOS 3.0.
In fact, there is no branding or "Palm" traits whatsoever adorning the visible exterior elements of the device, so it could just as easily be an unnamed Android or Windows Phone 7 handset. Since rumors have been swirling for quite some time about the existence of a large-screen, keyboard-free WebOS handset, it is quite likely that this is indeed a genuine device. In fact, back in October of 2010 we were discussing the possibility of a large-screen WebOS device under the codename "Mansion", though the smart money would be that is be the previously rumored "Mantaray"; essentially a "Stingray" (confirmed to be the Pre 3) without a physical keyboard and a similar 800x480 resolution screen. If true, this would be the first time similar Palm-related smartphones were offered in keyboard and keyboard-free flavors since the ancient Handspring Treo 180 and 180g in 2002.
Article Comments
(18 comments)
The following comments are owned by whoever posted them. PalmInfocenter is not responsible for them in any way.
Please Login or register here to add your comments.