AT&T Veer Spotted in New Color
Monday, May 2, 2011 11:01:13 AM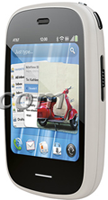 PocketNow is reporting that the upcoming HP/Palm Veer is not only coming to AT&T as widely suspected, but will also arrive in an interesting two-tone white and black color scheme along with its updated name of "Veer 4G", in an acknowledgement of its HSPA+ capabilities, though we will leave the debate over what actually defines "4G" to the ITU.
The diminutive device has reared its head in three official-looking promo shots, showcasing a white body with a contrasting black front bezel and buttons. It's unknown what WebOS version will power this device, as it's likely to ship with WebOS 2.1, but potentially 2.2 or even 2.3. The Veer also has the dubious distinction, as some have speculated it is possibly the final original device designed by Palm before the HP acquisition.
An AT&T network banner is clearly present on the top corner of the screen. If this is indeed the proper color for the Veer, then it will be the first WebOS device to deviate from all-black, aside from the AT&T-exclusive Pixi Plus that shipped with a standard blue battery cover.
To date, all previews of the Veer have indicated that it would be an all-black device, so this may be an exclusive AT&T color like we saw with the Centro in years past (which was interestingly also the last "Palm" device we saw offered in white).
Regardless of coloration, either an announcement or the Veer's actual launch should occur soon, as May 2nd was originally planned for the Veer launch party before being mysteriously cancelled.
Article Comments
(9 comments)
The following comments are owned by whoever posted them. PalmInfocenter is not responsible for them in any way.
Please Login or register here to add your comments.