HP WebOS Roadmap Leaked
Wednesday, July 13, 2011 12:09:40 PM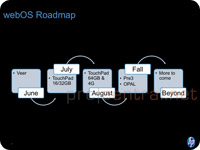 Last week, Precentral received quite the bounty from an anonymous HP insider in the form of a leaked HP roadmap. The internal presentation covers a period of time ranging from the Veer 4G's launch in May/June to an unspecified time later in Q3.
Since the launch of the Veer and Wi-Fi TouchPad have already occurred, let's look at what HP has in store for the coming months. August will bring a flagship version of the TouchPad in the form of a "glossy white" 64Gb version with a CPU boosted to 1.5Ghz. It's unknown if this is merely a higher-clocked version of the same Qualcomm APU found in the current TouchPad or an entirely new processor altogether. At any rate, this should go a long way to address some of the TouchPad's major performance issues with WebOS 3. It's unknown if the 64Gb TouchPad will also be offered in black or if the white case will eventually trickle down to the lesser SKUs.
Also arriving in August is the AT&T HSPA+ "4G" TouchPad, still in the traditional black color scheme and with 32Gb onboard. Coincidentally this matches up with the just officially announced TouchPad 4G and will also carry the 1.5Ghz CPU found in its 64Gb sibling.
The Pre 3 is still in them mix but now unfortunately only slated for a launch in the "fall" alongside the 7" version of the TouchPad nicknamed "Opal". No additional word on the Pre3's exact release date, carrier availability, or specs is listed in the leaked slides. The Pre 3 has seen its release date slip from July to August to the new unspecified "fall" date. The Opal was discussed at length last month in our story about Inventec landing a large HP tablet order.
The leak concludes with some sales-related matters. HP confirms the limited quantity status of the 16Gb TouchPad SKU as well as the higher-margins provided by the almost-ubiquitous 32Gb version. There does indeed appear to be a shortage of TouchPad-compatible accessories at retail, which I have noted in my own findings since launch date. Finally, the embargo for HP-branded TouchPad advertising will be lifted on July 17th, so retailers will be able to advertise the TouchPad utilizing methods other than directly approved by HP if they choose to do so.
Article Comments
(9 comments)
The following comments are owned by whoever posted them. PalmInfocenter is not responsible for them in any way.
Please Login or register here to add your comments.