TouchPad 3.0.2 Update Initial Impressions
Tuesday, August 2, 2011 6:02:06 PM
Coinciding with the start of August, HP has now delivered on the eagerly-awaited WebOS 3.0.2 build 68 update for the TouchPad. A full change log is available from HP here. Read on for my initial impressions of the update and how it would have impacted my TouchPad review score had it arrived prior to August 1st.
Installation
I fired up the TouchPad and did not receive an automatic notification that the update was available. I was, however, able to pull it using the "System Updates" icon in the Settings menu. The update was 38 megabytes in size and downloaded rather slowly over my 24 Mbit/s U-Verse connection. The entire process of downloading, unpacking, installing, verifying, and rebooting the TouchPad took approximately 36 minutes, a good bit longer than I am accustomed to with Android OTA updates.
Performance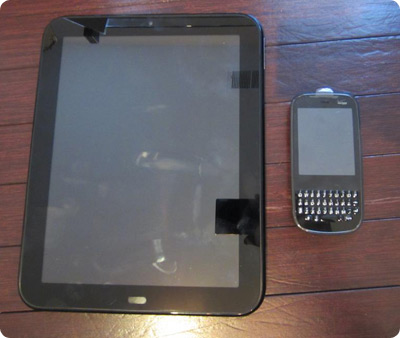 For me personally, this is the biggest attraction of the new 3.0.2 update. Nearly everything seems a bit snappier across the board. This is by no means iPad or even Honeycomb-beating performance but the TouchPad now performs approximately on par with the HP Veer for most basic OS tasks.
The most noticeable speed improvement is the improved launcher responsiveness. Whether it's hitting the up arrow or swiping between categories, things are much smoother and snappier. Launching individual apps is still quite slow and opening new cards while multitasking still feels slower than it should even for the most basic of apps such as Calculator or Calendar. The full hardware acceleration of the UI is not present but for the time being HP has addressed some of the most troubling aspects of the TouchPad's performance. It's an improvement, yes, but it still doesn't feel anywhere close to what I would expect from a 1.2Ghz dual-core Snapdragon.
The dreadful lag present in the Calendar app has been improved somewhat, especially when alternating between calendar modes and creating new events, though having multiple calendars (work, personal, birthday, holidays etc) still slows things down more than expected. All aspects of the Email client are now much faster, especially in messages containing HTML. Speaking of HTML, the web browser seems to have a bit easier time rendering complex pages, though it still bizarrely takes far too long to fully load a page.
Launching palminfocenter.com after a fresh reboot under the same exact circumstances as mentioned in my review resulted in a time of precisely 20 seconds to fully load and render the page, still considerably slower than every other modern device I have tested it on.
The TouchPad's startup time seems to have been slightly improved, as I just clocked 70 and 72 seconds for two consecutive startups with the same load of apps that took me 76 seconds a few days ago under 3.0.0.
Finally, I am glad to report that the sometimes overly-sensitive accelerometer in WebOS 3.0.0 has been drastically improved and the devices does not continue trying to go into landscape mode whenever it is placed on a flat surface.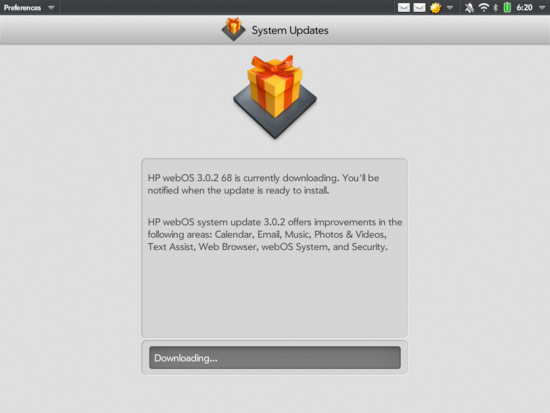 Image ℅ engadget.
New Features and Apps
The primary new app additions in this update are two items that have been standard on mobile devices for decades, including the very first Pilot handhelds in 1996. That's right, HP has seen fit to port the clock and calculator apps from the WebOS smartphones over to the TouchPad! Why these two critical items were omitted from the initial TouchPad ROM remains a mystery, especially as they have been standard features on all prior WebOS devices since the original Pre.
There is very little to say about Calculator and Calendar other than they are quite barebones. Calculator has rearranged a mild facelift with its buttons a bit from the smartphone version and now contains the +/- and scientific keys on the same screen. Sadly, considering HP's traditional strength in scientific and financial calculators, the app could have easily been re-skinned to make full use of the available screen space and offer much more functionality. Clock seems to be lifted straight from the TouchPad's existing Exhibition Mode but it does have three clock modes available instead of two and has received a nice graphical overhaul compared to what I have on my Pixi Plus running 1.4.5. Just like the smartphone version, Alarm functionality is available within the Clock app.
The Music app has also received a nice UI makeover that makes it look much more like a tablet-optimized piece of modern software instead of an upscaled WebOS smartphone application. The old black and grey design has been replaced with a much more unified grey and white and "Now Playing" has been bumped up to the very top of the screen instead of a box in the upper left corner. Given the exemplary audio output on the TouchPad courtesy of the Beats audio technology, it's nice to see HP continuing to play up the device's music strengths. Now let's just hope that HP quickly gets a native Amazon MP3 client on the device.
A number of smaller changes have been incorporated into the update, which you can read about here.
Conclusion
Without a doubt, this is a relatively minor but still terribly needed update for the TouchPad. It does nothing to address the device's dire need for apps but it does add a bit more native functionality and slightly snappier performance across the board. In fact, I think that HP would have been wise to delay the TouchPad's launch by a few weeks in order to incorporate these changes into the initial 3.0.0 shipping ROM and/or rushed out an immediate patch just for the performance issues earlier in July. Very few reviewers, especially those in the mainstream press or non-Palm enthusiast sites, will even bother to mention this update, much less update their initial reviews to reflect the improvements (assuming these reviewers are even still in possession of their review units).
Regardless of HP's motivation for releasing their first WebOS tablet in such an unfinished state, the relatively swift arrival of this update can only be a huge reassurance to TouchPad early adopters. If HP can continue to crank out updates of this magnitude every few months, they may win over more than a few skeptics.
It is also worth noting that I intentionally withheld my final TouchPad review throughout the entire month of July hoping that HP would crank out a magnificent OTA update that I could incorporate into my final score. When July ended and August began, however, we decided to go ahead and post the review based on 3.0.0
If I had to re-review the TouchPad utilizing improvements found in 3.0.2, I would say this single update alone is almost enough to bump up the overall score of my review by a half-point. Not quite enough, but it comes very close.
Article Comments
(4 comments)
The following comments are owned by whoever posted them. PalmInfocenter is not responsible for them in any way.
Please Login or register here to add your comments.