Full Featured HTML Editing on the Palm
Friday, April 27, 2001 7:12:00 AM
Pine Tree Software has released Torpedo, the first Web page editing application that allows users to create HTML files, preview them on the handheld, then FTP them directly to a Web server. Torpedo's drop-down menus and wizards guide users through coding of HTML tags including font formatting, applets, image linking, hyperlinks, Javascript, and more. It comes bundled with iLinx's Palmscape Web browser for previewing the pages, LFTP for uploading the files, and CSpotRun, to read the on-Palm documentation. Torpedo is available for $12.50.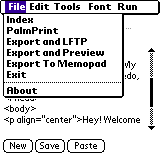 It comes with Palmscape for HTML preview. This can show text formatting (with color), frames, tables, and more. Plus, Palmscape is directly launchable from Torpedo.
It also comes with Laurent Thaler's LFTP software for FTP access from any phone line or wireless connection. Most FTP commands are usable, including make directory, delete directory, put a file, get  a file, and even upload DOC to HTML. Files can be exported then uploaded with a single Torpedo command.
Torpedo has integrated support for Stevens Creek Software's PalmPrint and SCS Print Server to print the HTML.
Torpedo keeps its HTML files in its own database that is automatically backed up on every HotSync. Torpedo even can synchronize its files with the Memo Pad.
A desktop conduit and wireless server (Palm VII) application are coming soon, probably being released by summer.
On the Web:
Article Comments
(10 comments)
The following comments are owned by whoever posted them. PalmInfocenter is not responsible for them in any way.
Please Login or register here to add your comments.

Comments Closed
This article is no longer accepting new comments.