Launcher III Offers Extensive VFS Support
Wednesday, September 19, 2001 3:31:53 PM
Many long-time Palm users are dissatisfied with the default application launcher built into the Palm OS. This has lead to a proliferation of third-party apps that take its place. Benc Software has released Launcher III, which now sees, and is able to start, applications stored on VFS expansion memory cards like SD cards and Memory Sticks. It also has support for the jog wheels on the Sony Clié and HandEra 330. It is $10 shareware.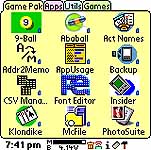 Applications and files on the expansion card in the default folder show up in Launcher III is if they were in RAM. When an application on an expansion card is opened, Launcher III copies it to the main memory and then executes it. The application is deleted from RAM after the user switches to another application.
Launcher III allows Palm VII PQA applications, DOC files, and HackMaster hacks to be launched directly. For example, a Doc file can be tapped on to launch a specified Doc reader rather than requiring the reader to be opened first.
If a file is launched from a card, it will be copied into main memory along with its "owner" application, if necessary. After the application is closed, if the file has been modified, Launcher III will copy it back to the card, and then delete it from RAM. This means users can edit a file even if it is stored on the card. However, if a file is stored on the card, it cannot be synchronized with its desktop copy, because HotSync conduits don't see files stored on cards.
The application now has a "Card tools" gadget that lets users copy or move apps to and from the card.
Launcher III lets users organize applications and files into tabs, each of which can have a different background color. It also has functions that allow applications and files to be deleted and beamed.
Thanks to rldunn for the tip. -Ed
Article Comments
(50 comments)
The following comments are owned by whoever posted them. PalmInfocenter is not responsible for them in any way.
Please Login or register here to add your comments.

Comments Closed
This article is no longer accepting new comments.