The Star Trek Influence on the Palm OS
Monday, March 15, 2004 10:35:23 AM
An article in the San Francisco Gate takes a look back at Star Treks influence on modern gadgetry. Among one of the primes examples, is the influence of certain Trek designs on the Palm OS and Treo Communicator.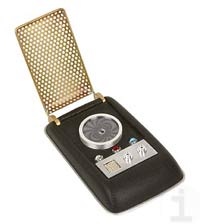 Nowadays almost every handheld with a flip lid, instantly warrants comparison with Captain Kirks notorious communicator. Aside from the obvious association with the communicator, the SFGate article reveals a few other previously unknown throwbacks to the pioneering sci-fi series.
"When I designed the UI (user interface) for the Palm OS back in '93, my first sketches were influenced by the UI of the Enterprise bridge panels,'' said Rob Haitani, product design architect for Palm-One Inc. [...] "Years later, when we designed the first Treo (a combo phone and wireless PDA), it had a form factor similar to the communicators in the original series. It had a speakerphone mode so you could stand there and talk into it like Capt. Kirk.''
Rob Haitani was one of the original engineers behind the development of the Palm OS as well as the Treo line of products. He is often credited with coining the "Zen of Palm" mantra.
Thanks to Engadget for the tip.
Article Comments
(16 comments)
The following comments are owned by whoever posted them. PalmInfocenter is not responsible for them in any way.
Please Login or register here to add your comments.

Comments Closed
This article is no longer accepting new comments.