Palm's 2008: A Year in the Desert with Windows Mobile
Tuesday, January 6, 2009 1:19:23 PM

2008 has concluded and Palm released no new devices running either the classic Palm OS Garnet or its Linux-based Palm OS II, aka "Nova" over the course of the year. Palm did, however, release several Windows Mobile handsets in 2008 in an attempt to tide the company over during its transition period into what will hopefully be an exciting 2009.
Looking back at our WM-based Palm rumor analysis article from this past May, nearly all of the various rumors and predictions turned out to be fairly accurate, minus one missing device ("Wanda") that never materialized.
Palm Drucker
The mysterious device codenamed "Drucker" turned out to be the GSM Treo Pro (aka Treo 850), launched this past October. Additionally, the CDMA version of this device, rumored to be heading to Sprint in January '09, could very likely be the device bearing the "Skywriter" nickname.
Zeppelin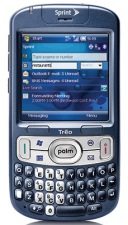 "Zeppelin" ended up as the much-maligned (and reportedly soon-to-be-EOL'd) CDMA Treo 800w, available exclusively on Sprint. Lagging behind its newer, sexier Treo Pro stablemate in many key aspects, this device never gained the critical praise of the Treo Pro or the sales success of the Centro and appears likely to set the record for the shortest official lifespan of a Palm-branded device, whether PDA or smartphone.
Palm Wanda
"Wanda" remains the most intriguing Palm Windows Mobile-based device of 2008, for the simple reason that it never appeared! A thorough perusal of all the usual online sources has revealed absolutely nothing about this device past the initial rumor frenzy in January.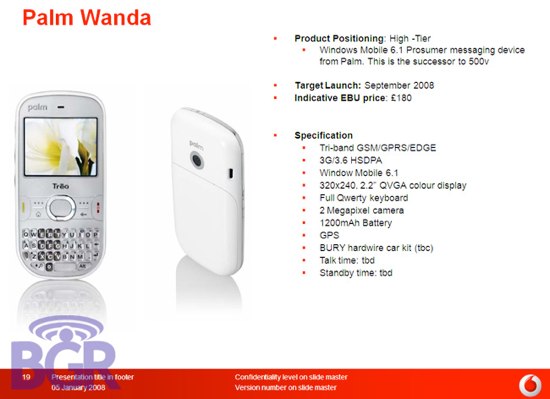 First outed via some very detailed internal Vodafone slides back in January of this year, the "Wanda" Treo 500 successor quietly disappeared without any subsequent news. Had the device arrived as promised, it would have brought a handful of small but appreciated updates to the Treo 500; Windows Mobile 6.1, full HSDPA 3G connectivity and integrated GPS. As of this writing, the original Europe-exclusive Treos, the 750v and 500/500v, remain available on both Vodafone and Palm Europe websites.
Article Comments
(8 comments)
The following comments are owned by whoever posted them. PalmInfocenter is not responsible for them in any way.
Please Login or register here to add your comments.