AT&T's Palm Pre vs iPhone Comparison Chart
Wednesday, April 22, 2009 1:21:04 PM

Precentral has just received word of a leaked AT&T internal memo comparing and contrasting the various hardware and software specs between the current iPhone 3G and Palm's upcoming Sprint-exclusive Pre smartphone. Released nearly one year ago in June 2008, the 2nd-generation iPhone design is widely expected to receive some kind of hardware refresh this summer alongside the official availability of its OS 3.0 software update.
With the Palm Pre widely expected to be available sometime in May or June, the end of the first half of 2009 is shaping up to be a turbulent time for the smartphone market. In fact, reading between the lines of this leaked training slide could lead to the assumption that the Pre's launch is imminent and Palm may have a one or two month window of opportunity ahead of Apple's iPhone hardware refresh or official OS 3.0 availability.
Taking a closer look at the actual list yields mostly expected talking points. AT&T obviously touts the iPhone as a stronger "value proposition", despite the currently unknown retail pricing or availability of the Pre. AT&T also bizarrely touts the Pre's gestures as "unintuitive" and its software library "unproven" despite the fact that very little of the Pre has been demonstrated publicly and the phone remains unavailable for sale or review.
Unsurprisingly, the Pre's major hardware improvements over the iPhone, such as a removable battery, slide-out physical QWERTY keyboard, improved camera quality and a smaller, seemingly more comfortable formfactor are not addressed by the chart. Also unaddressed within the chart is the cloud-centric, platform-agnostic nature of WebOS, MotionApps' "Classic" Palm OS emulator, WebOS' superior multitasking capabilities over the iPhone, or its reported ease of software development.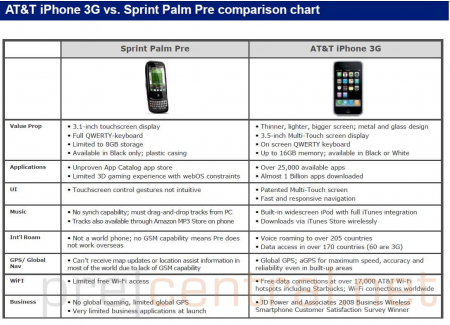 The list does have a few worthwhile references of clear wins for the iPhone, such as the availability of a higher-capacity 16GB version, a larger 3.5" glass touchscreen, GSM global roaming capabilities and a large existing library of 3rd party apps available via iTunes. As always, CDMA vs. GSM, the presence of wired desktop synchronization, iTunes' enormous music library and the iPhone's tight integration with iTunes (vs. the Pre's USB drive mass storage compliance) are debatable merits largely hinging on the usage habits and preferences of individual users.
This latest salvo represents the most amusing turn of events in the Palm vs. Apple battle since Roger McNamee's singlehandedly launched an unauthorized Pre publicity campaign last month. Also, these potshots could be anecdotal evidence alongside the lack of an AT&T GSM Treo Pro as a hint that no plans for an AT&T-endorsed version of the GSM Pre are on the horizon.
Article Comments
(27 comments)
The following comments are owned by whoever posted them. PalmInfocenter is not responsible for them in any way.
Please Login or register here to add your comments.