AT&T Ready Treo Pros Available from Best Buy
Monday, May 11, 2009 4:28:05 PM
Nearly nine months after the release of the unlocked GSM version of Palm's Treo Pro, a seemingly official AT&T version is now available in Best Buy Mobile stores. This represents the first time a carrier-subsidized version of the GSM Treo Pro has been made available for sale in the USA since its release last August.
Earlier today in the Mobile department of a local Best Buy store, I spotted an endcap display containing not only generic Treo Pro signage but also a price tag dated May 3rd with full pricing and stock information along with a non-functional Treo Pro dummy handset. The display Pro was unbranded but appeared identical to the unlocked GSM version. The descriptive text on the price tag was not overly detailed but did indicate specs essentially identical to the existing unlocked version, so there is unfortunately no Windows Mobile 6.5 surprise in the works from Palm and AT&T. It is also unclear if the AT&T version shares the same hardware specs as the unlocked version or if it received the RAM and CPU boost as seen in the newer CDMA variants.
Palm, AT&T, and Best Buy currently indicate nothing whatsoever about an AT&T-subsidized version of the Treo Pro on their respective websites. As of this writing, the glacier white Palm OS-based Centro is the only Palm product listed on AT&T's website.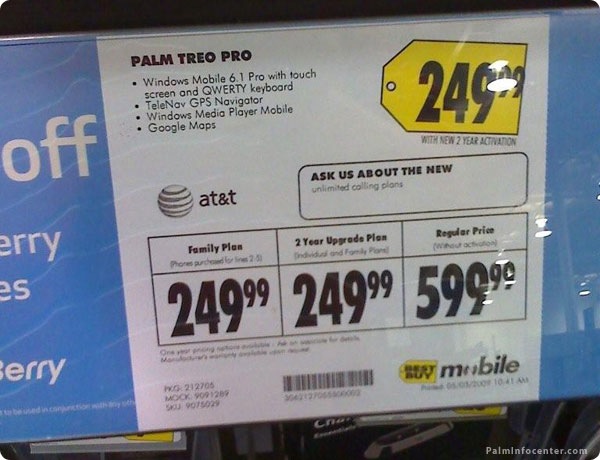 It is also worth noting that the current Palm.com store price for the unlocked Treo Pro is $399.99, a full $200 less than Best Buy's in-store and online retail prices. Best Buy's subsidized price in-store for the AT&T Treo Pro with a 2-year contract is a much more attractive $249.99 after instant rebates, although this is still more than the $199 post-rebate price for the newer Sprint and Alltel CDMA versions.
You may recall back in December that the GSM Treo Pro in unlocked form was certified as an AT&T network compatible device, so it's possible that this is an "unofficially official" version sold exclusively through Best Buy stores, perhaps even as an easy way to ease into more significant Palm + AT&T partnership for the rumored Eos. Adding some weight to this possibility is the fact that the SKU listed on the printed card for the AT&T Treo Pro is 9075029. This just happens to be the exact same SKU used by Best Buy for the unlocked Treo Pro.
Article Comments
(2 comments)
The following comments are owned by whoever posted them. PalmInfocenter is not responsible for them in any way.
Please Login or register here to add your comments.