webOS 1.2 Brings LED Notifications, Remote App Removal
Saturday, September 5, 2009 1:08:04 AM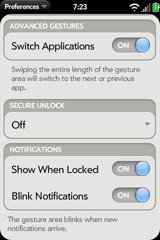 The recently-leaked WebOS 1.2 has sent the webOS-internals group into a minor tizzy today, with IRC super-sleuths Theo Ottesen and Michael Wand (theo on IRC and michaelw9 on Precentral) making two very intriguing discoveries in the code. One is great, and one is... slightly concerning.
Good news first: LED notifications are on the way! The much-requested feature has been discovered within the "securityconfig-scene.html" file, which contains the following info-text: "The gesture area blinks when new notifications arrive." The feature is currently commented out, but Michael was able to activate it by simply uncommenting it. The option for LED notifications is then added to the Screen & Lock settings page, and once turned on will set the LEDs on the gesture area to pulse on and off when a new notification arrives - new SMS messages, missed calls etc.
And now the other, not-so-good thing: apparently webOS 1.2 will give Palm the ability to remotely remove apps from your device, and you won't have much of a say in the matter. In the file "usr\lib\luna\system\luna-systemui\app\controllers\apprevokedalert_scene.html", we can see this info-text: "Palm had to delete this application from the App Catalog and your device. If you paid for this app, your money will be refunded."
Ouch. Shades of the Apple App Store Google Voice fiasco right there. Hopefully Palm only intend to use this power for good, not evil - i.e. by removing apps with show-stopping bugs or malware - but it's still a little too 1984 for your correspondent's tastes.
We're sure that's not all; in addition to a large number of new files, there are over 9000 modifications made to the existing code, many of which seem to have to do with the upcoming GSM Pre. We'll bring you any news as it breaks.
Thanks to Kris Keilhack for the assistance.
Article Comments
(16 comments)
The following comments are owned by whoever posted them. PalmInfocenter is not responsible for them in any way.
Please Login or register here to add your comments.