Rumor: More Info on Palm's Upcoming Models
Thursday, August 29, 2002 3:38:46 PM
Geek.com has obtained more leaked information on upcoming handhelds from Palm Inc. This comes from the same person who leaked info to that site on these models earlier this week.
According to this source, which the site characterizes as very reliable, the names "Tungsten" and "Zire" will be the names for product lines, like the way Handspring makes the Visor and Treo lines. The Tungsten line will be high end and run Palm OS 5, while the Zire line will be entry-level and run OS 4.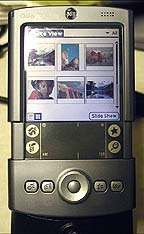 Tungsten
The Palm OS 5 model will be very much like the Oslo prototype, an image of which was leaked early last month. Though it lacks a jog wheel, its directional pad is even more flexible because it allows Left and Right, in addition to Up and Down. In addition, the user can select items by pressing down in the middle of the D-pad.
The Geek.com source confirms the device will have a 320 by 320 screen. Palm OS 5 has built-in support for hi-res screens and Palm announced at the PalmSource conference in February that it would begin to use them in some of its future models.
Palm OS 5 also has multimedia support built into it and the Tungsten takes full advantage of it. It has a microphone, headphone jack, and speaker. OS 5 has the ability to play CD-quality digital audio and the ability to record sound.
According to previous information for this source and others, this model will have an SD/MMC slot and Bluetooth wireless networking.
Of course much information about this model is still not available, like how much RAM it will come with and what it will cost. According to this source, it will be available at the end of October.
Zire
Geek.com's source also had some information on the entry-level model. According to them, the Zire will not use Palm's Universal connector and won't come with a cradle. Instead, it will use a mini USB cable and separate charging cable that will connect directly to it. The source says this model will be available at the beginning of October.
According to a seperate source, this is a very basic model with 2 MB of memory and no SD/MMC slot. It is not a member of the m100 series. Instead, it has a shape which is described as being similar to Sony's T series and will come in an all-white plastic casing. It will have the standard Up/Down keys but only two app-launching hardware buttons, not the four that have always been on Palm OS devices.
Related Information:
Article Comments
(109 comments)
The following comments are owned by whoever posted them. PalmInfocenter is not responsible for them in any way.
Please Login or register here to add your comments.

Comments Closed
This article is no longer accepting new comments.

Only the first 50 comments are displayed within the article.
Click here for the full story discussion page...