Rumor: More Info on the Palm TX and Z22
Friday, September 23, 2005 12:11:55 AM

PalmInfocenter has learned that the final names for the upcoming fall Palm releases will be the Palm TX and Palm Z22. Palm is apparently dropping the sub-brands to highlight the strong Palm brand. Also new pictures of the devices have been posted.
Palm TX
The Palm TX will run Palm OS Garnet v5.4.9. It will have a 312MHz XScale processor, a 320x480 pixel display, 128MB of non-volitile memory, 802.11b WiFi, Bluetooth 1.2 and an SDIO expansion slot. It will have a $299 USD MSRP.
Our previous source has shared new information that indicates the TX will not have a camera or voice recorder as previously stated.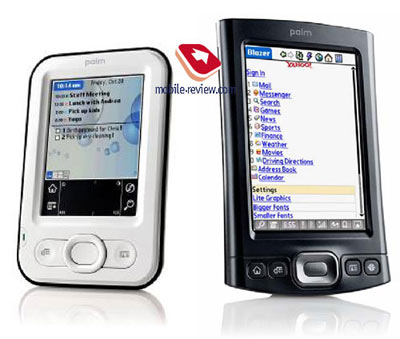 Palm Z22
The Palm Z22 will have a 160x160 pixel color screen (supporting 4096 colors), 32MB of non-volatile RAM (20MB user accessible) and will run a 200MHz Samsung ARM processor. It will not have an SD slot or a headphone jack. It will retail for $99 USD. This will be the first color handheld released under the $100 mark.
The rumored release date for both devices is October 12th.
Mobile-Review.com have posted new images of the TX and Z22.
UPDATE: The Palm T|X and Z22 have been released. Read the T|X review here.
Article Comments
(109 comments)
The following comments are owned by whoever posted them. PalmInfocenter is not responsible for them in any way.
Please Login or register here to add your comments.

Only the first 50 comments are displayed within the article.
Click here for the full story discussion page...