Angry Birds Seasons Coming Soon for WebOS
Friday, December 3, 2010 10:02:50 AM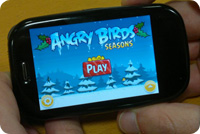 Angry Birds Seasons, already available for iOS and Android devices, is coming soon for WebOS gamers everywhere. Developer Rovio just tweeted "almost there" alongside an Twitpic image of the Christmas-themed Seasons title screen running on a Pre Plus. Presumably, the WebOS version of Seasons will mimic its Android counterpart in including the previously iOS-only Angry Birds Halloween levels.
Additionally, a prior Tweet disclosed that Rovio and Palm had worked out a lingering issue regarding the updated version of Angry Birds that we mentioned previously, with an update imminent pending Palm's App Store approval.
(Thanks, PreCentral.)
Leave a comment...

Click on the
Start New Comment button
below to begin a discussion.
You must be
registered
and
logged in
to add comments.