Gameloft Releases N.O.V.A. for webOS
Tuesday, April 13, 2010 10:13:02 AM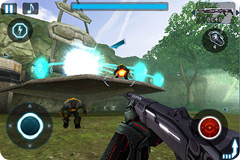 Gameloft has released its popular N.O.V.A. - Near Orbit Vanguard Alliance for webOS. Palm Pre users can now download and play one of the primer first person shooter style games for mobile devices.
The game features an epic single-player campaign with 13 levels set in the jungle, snow, spaceship, bunker and an alien city scape. In addition to the full 3D worlds, player can be outfitted with 6 different weapons and three different control schemes. Single and multiplayer modes with WiFi play are available with worldwide leaderboards. The webOS version is currently compatible with the Palm Pre and Pre Plus and sells for $6.99 from Palm's app catalog.
From the game description…
Join the fight for mankind's survival against the aggressive aliens known as Judgers in this revolutionary sci-fi FPS. With Earth no longer able to sustain life, huge artificial satellites called "near-orbitals" were constructed for people to live on. To protect themselves, the near-orbitals banded together to form N.O.V.A., the Near Orbit Vanguard Alliance. Against his will, retired marine hero Kal Wardin is forcefully returned to active duty to prevent mankind's annihilation.
Leave a comment...

Click on the
Start New Comment button
below to begin a discussion.
You must be
registered
and
logged in
to add comments.