HP to Resume Production on Final Batch of TouchPads
Tuesday, August 30, 2011 11:53:58 AM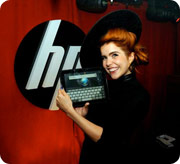 In the latest (but by no means final) twist to the wild two week saga of the discontinuation of all WebOS hardware, HP has finally made an official announcement to their The Next Bench site updating us on the status of the remaining TouchPad inventory earmarked for clearance.
Most surprising of all, according to HP's Mark Budgell's post today, is that HP has been so "pleasantly surprised" by the flurry of excitement online and in retail stores over the TouchPad that they have given in to the overwhelming response of the market and decided to produce one final batch of new devices. There is no indication as to how many units qualify as a "run" nor any specifics about color, storage capacity, or CPU speed.
It's also possible that this final batch could be an allotment of 64GB wi-fi, TouchPad 4G or rumored 7" TouchPad Go units that were originally going to be scrapped in light of the announcement on the 18th.
An excerpt of Mark Budgell's post:
Despite announcing an end to manufacturing webOS hardware, we have decided to produce one last run of TouchPads to meet unfulfilled demand. We don't know exactly when these units will be available or how many we'll get, and we can't promise we'll have enough for everyone. We do know that it will be at least a few weeks before you can purchase. See more information in the updated FAQs below.
One of the most interesting tidbits from the updates FAQ reiterates that this is a very limited quantity, one-time event and stresses that this is not a permanent restart of TouchPad production:
Q: Can you comment on whether HP had to manufacture more to meet the recent demand?

HP will be manufacturing a limited quantity of TouchPads with webOS during our fourth fiscal quarter 2011, which ends October 31.
Thankfully, HP will be imposing an unspecified order limit in the future to prevent resellers from acquiring large numbers of TouchPads and selling them on E-Bay and Craigslist for a large markup. Also, this is definitely a TouchPad-only event and no mention is made whatsoever of the return of WebOS smartphone hardware.
Related: HP TouchPad Review - TouchPad Touchstone Dock Review
Article Comments
(21 comments)
The following comments are owned by whoever posted them. PalmInfocenter is not responsible for them in any way.
Please Login or register here to add your comments.