Vodafone Now Taking Treo 750v Pre-Orders
Wednesday, September 6, 2006 5:04:18 PM

Despite the fact that no official pictures of the device have been released and not all details are known, Vodafone UK is now taking pre-orders for the new Europe bound Palm Treo. The Treo 750v is expected to be announced by Vodafone on Sept 12th. The 750 will run on 3G/UTMS networks and is powered by Window Mobile in a new antenna-less package.
The pre-order page can be found on Vodafone UK's Business Shop site. The pre-order price is set at £127.66, or roughly $240 USD. It doesn't reveal much in terms of new details and hints at more information to come later.
A series of leaks has revealed a number of images and features of the new Treo, expected to be called the Treo 750v. We know for certain that it is powered by Windows Moble and will use GSM/UTMS phone technology. It features the usual Treo 'qwerty' keyboard form factor, minus the external antenna. The memory expansion slot has been changed to miniSD and has been moved to the side.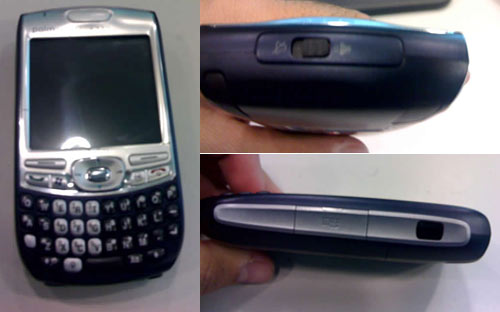 A number of details are still unknown as Palm has not officially announced the final specs or availability.
Palm previously announced this new Treo smartphone would be available first to Vodafone customers in multiple European countries, including the UK, Germany, Spain, Italy and Netherlands, before the end of the calendar year.
Images of a antenna-less Treo model running Windows Mobile were previously leaked as far back as April. A number of new pictures were also posted in late August. There has also been a number of rumors that state this same model is due to be released in the US on the Cingular network sometime in October.
Thanks to Andrew Tunis for the tip.
Article Comments
(1 comment)
The following comments are owned by whoever posted them. PalmInfocenter is not responsible for them in any way.
Please Login or register here to add your comments.