Pre Release Date Rumormongering Roundup
Wednesday, April 29, 2009 7:08:52 PM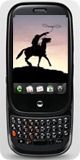 It has undoubtedly been an unprecedented week in the world of Palm Pre rumors. The excitement for the highly anticipated Pre release combined with Palms newspeak-like "first half of the year" mantra has created a perfect storm for daily rumors and half baked predictions from nearly every corner of the web.
While PIC does not tread as deeply into the waters of unsubstantiated rumors as many other sites do, we still keep our eyes on all the latest gossip and try to cover the more plausible things out there. Read on for our roundup of the latest chatter as we provide an analysis of some of the juicier bits from around the web over the past week.
Pre "Up" on May 29th?
PIC member motty gave us a reminder on Monday that the anonymous "Inside Sprint Now" site author also posted some additional info outside of his blog. The "Insider" posted to sprintgurus.com that the Pre will be pre-loaded with a trailer for the new Disney-Pixar movie "Up".
This tip was joined by some not-so-subtle hints from the poster about "reading between the lines". The new Disney film hits theatres on Friday, May 29th, so as release sometime within a week or two of the film's release would make sense.
June 7 Release Date?
Coal, the admin of the Sprintgurus.com forums, posted some information last week discussing the release date of the Pre alongside a slew of other upcoming Sprint/Nextel devices. Sprintgurus.com is a non Palm/WebOS-specific site, and has had some good leads in the past so this information looks fairly credible. Coal says that the Pre is still in the testing stage and there are two release windows for the Pre: "one is around June 7th and the other I cannot say much on".
June 7th... No Way
Wall Street Journal's always-entertaining D! All Things Digital site has a new story focusing on the Pre's release date in its Digital Daily column. Authored by John Paczkowski, the rumored June 7th release date is debunked simply due to its close proximity to Apple's WWDC Keynote on June 8th. Last year this event saw the introduction of the iPhone 3G and another new iPhone of some kind is largely suspected again this year. Paczkowski rightfully surmises that Palm's Pre, no matter how eagerly anticipated, would be swept away by the Apple marketing juggernaut, and Palm and Sprint will be better off launching the device prior to or even after Apple's WWDC event.
Pre Spotted on CalTrans

Our friend Christopher Meinck from Everythingpre has posted a new picture of a Pre being used "in the wild" by a anonymous female CalTrain passenger. The image originated from a Tweet by jblebrun. These "wild" sightings are becoming more and more common as we approach the release date and might even be part of a carefully orchestrated guerilla marketing campaign by Palm and/or Sprint.
Pre's Shipping Out Already?
Another EverythingPre article that has since made the rounds on nearly every other Palm-centric site is an anonymous tipster's report that the first batch of Palm Pre are on their way from Hong Kong to Louisville, KY where they will then be shipped to another local location for reshipment preparation. It is worth noting that Christopher reminds us that UPS' main hub is in Louisville and that the past rumors have suggested Taiwan's Chi Mei is Palm's OEM partner for the Pre. In a later update, Dieter Bohn of PreCentral fame sends word that the incoming Pre handsets must first pass a "Source Audit" of Sprint testing of the devices' ROMS (and presumably, any last-minute flashing if necessary) prior to shipment to individual Sprint stores.
Palm Viral Video Casting Call
On the semi-official Palm marketing front, Gizmodo posted yesterday about a casting call for another Palm viral marketing video. The casting alert is seeking a "Palm Pre Protest Guy". More specifically, they are seeking a Seattle-based male of all ethnicities between 24 and 34 who is "…an improve guy. He's loveable with a good combination of cool and nerdy but mostly funny". The protest-themed ad production will conclude by June 5th, so a release date sometime in either late May or early June again could be deduced and seems likely. Additional details on the viral video can be found at PreCentral.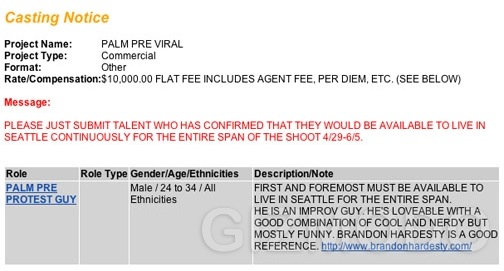 Waiting...
Playing further on the "waiting" theme, Palm's corporate blog update from this Monday is entitled "The waiting is the hardest part" and has an accompanying video of Molly McAleer. This post and video clip would appear to be a likely kick-off for a new viral or guerilla marketing campaign financed by Palm that will culminate in the spot mentioned above.
Retail Sales and Pricing Estimates
Last Thursday, TheStreet.com's Scott Moritz posted in his "Tech Rumor of the Day" column that Credit Suisse analysts have reconsidered the device's possible final subsidized retail price. While last week's speculated pricetag of $150 to $199 (depending on Sprint's level of subsidization) seemed a bit fanciful at the time, today's iSuppli report on the surprisingly low bill of materials cost for the Pre makes this figure seem a bit more plausible, especially if Sprint and Palm are racing to beat Apple's 3rd-generation iPhone and upcoming OS 3.0 to market.
However, I am sticking to my guns and am predicting a launch price anywhere between $199 and $299, with those numbers liable to fluctuate a bit with mail-in rebates or different pricing in-store vs. online. Moritz's piece also mentions that Credit Suisse anticipates Palm selling 1.3 million Pre's this year, followed by 3 million next year. The article unfortunately does not offer additional information on whether those numbers are comprised exclusively of Sprint numbers, or combined this new Bloomberg piece speculates. If Palm's material cost on the Pre hardware is currently only $138, imagine how their margins will improve if they can move these things in quantities anywhere close to those seen by the popular Centro in 2007 and 2008.
As always, most of the above information is based in part or solely on speculation/conjecture and should be taken with a large quantity of salt. Certain sites and blogs tend to have more credible leads or sources of information than others and can vary from report to report. The recent batch of Pre and WebOS-exclusive sites springing up since CES, coupled with the scarcity of genuinely new Pre information from Palm and Sprint, has made it even harder to properly disseminate all of these various reports.
Leave a comment...

Click on the
Start New Comment button
below to begin a discussion.
You must be
registered
and
logged in
to add comments.