2005 the Palm OS Year in Review
Tuesday, January 10, 2006 6:54:41 PM

In our annual year in review article, PalmInfocenter takes a look at all of the major events that took place in the Palm OS world in 2005. It was certainly an exciting year full of surprise announcements and major transitions. Treo smartphones really began to take off, a lot of innovative devices were released and many surprises and new directions within the Palm economy took shape. Read on for the full recap.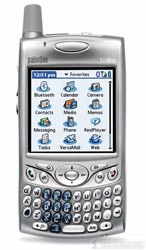 January
In the beginning of 2005 Palm was still known as palmOne. The company announced a number of changes in January. The first sign of change came when the company's CEO resigned. Todd Bradley later moved on to HP to head their Handheld and PC Unit. Ed Colligan stepped up as the new CEO. The Treo 650 became more widely available and enjoyed strong sales and wide praise in the media.
A few new Palm OS devices debuted early in the year. The often delayed Fossil FX2008 wristwatch PDA came to market. Garmin released the iQue 3600a, a GPS handheld designed for aviation, and the Qool QDA-700 became available in some European and Asian markets.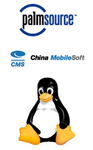 February
In February PalmSource formally completed their acquisition of ChinaMobileSoft. PalmSource acquired the company to leverage the work CMS has done with Linux to provide a new version of Palm OS based on Linux.
In GSPDA news, the company brought the M68 smartphone to Europe. The company also announced they would bring out a Palm OS Cobalt smartphone by the end of 2005. A claim which was again restated during PalmSource's developer conference in May, however to date no manufacturer has announced a Cobalt device and none will likely ever.
Eight months after exiting the US and European PDA markets, Sony put the rumors to rest and officially announced there would be no more Clie handhelds in Japan or anywhere else.
March
In March, industrial handheld maker Symbol announced they had renewed their Palm OS license, however no new devices have been released by the company in a number of years.
Also in the beginning of the March a pair of mystery Treo's surfaced. These images were the first sign of the impending Apocalypse Windows Mobile Treo. palmOne also announced another positive quarter and the opening of a new Smartphone engineering center in Dublin. PalmInfocenter also posted its Treo 650 review.
April
In April palmOne released the Tungsten E2 handheld. This update to one of the company's top selling models included a brighter color screen, flash memory and Bluetooth. Meanwhile rumors and speculation about the upcoming LifeDrive were rampant.
In a strange twist of fate, a company debuted a Palm OS emulator for Microsoft Pocket PC's. Dubbed StyleTap, the new product allows most applications originally written for Palm OS handhelds to run on Windows Mobile-based PDAs.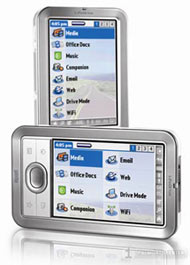 May
In May the palmOne LifeDrive officially debuted. The LifeDrive was the first Palm OS PDA with a built in hard drive. It featured a 4GB hard-drive for storage, a 320x480 high-resolution color screen, and both Wi-Fi and Bluetooth. Read the review here.
Just a day before the PalmSource developer conference got underway, PalmSource CEO David Nagel resigned his position. Senior VP Patrick McVeigh stepped up as interim CEO, while the company has yet to name a permanent replacement.
The PalmSource DevCon was a very well attended event as the company showed its first glimpses of Palm OS for Linux. Even a Palm OS Cobalt phone was being shown.
palmOne announced at the conference that they had renewed their Palm OS license through 2009. But the big news was that the company worked out a licensing deal with PalmSource to reacquire the rights to use the Palm brand and name.
Summer
The summer months saw the news slow down, with a number of software devices updates here and there. Rumors of a new Tungsten model first showed up.
In PalmSource news, the company announced a slight profit from the Palm trademark sale and also announced layoffs, cutting 16% of its staff. The company also announced one of its first new licensees in some time, as LG Electronics signed an agreement to develop Palm OS based smartphones. PalmSource also revealed that they were shifting all engineering efforts on the future Linux based versions of the Palm OS. The company also put a timetable on its release, stating the version for low end and feature phones is planned to be completed by summer 2006 and a high end version for smartphones is expected to be ready in the second half of 2006.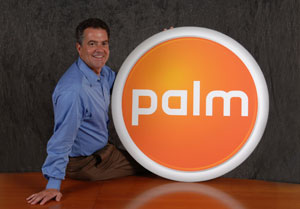 In July the big news was that palmOne was now officially back to Palm Inc. Palm unveiled their new orange logo and promised new Palm products in the fall.
The summer also saw Tapwave shutting down. The company discontinued their Zodiac handheld business failing to ever grab a significant slice of the portable gaming market amid strong competition from Nintendo and Sony.
Jeff Hawkins made some news when he began to drop hints about his next big invention in development. Hawkins began talking about Palm's secret third business involving the next major generation of mobile computing.
August also saw a big return to the Windows Mobile Treo rumors. A video of it in action was posted, Palm's CFO told the media that "CIOs don't get fired for using Microsoft products" and we learned that HTC would be manufacturing the device. What was years ago totally unthinkable started to appear almost certain.
In Palm OS device news, the GSPDA Xplore M98 smartphone began shipping. Intel also announced their next generation XScale chips code-named "Monahans". A pre-production Monahans chip running at 1.25 GHz was demonstrated palying back a HD quality video on a PDA.

September
In September the latest bomb was dropped in the ongoing PalmSource saga. Japanese mobile software company ACCESS announced they would acquire PalmSource in a deal valued at $324 million dollars. ACCESS pledged to make PalmSource a wholly owned subsidiary and would help the company continue work on Palm OS for Linux. We later learned that Palm and Motorola had both put in bids for PalmSource.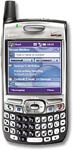 Then in late September it finally happened. Confirming months and months of rumors, speculation and flame wars, Palm and Microsoft jointly announced at a press conference with Ed Colligan and Bill Gates that Palm has licensed the Microsoft Windows Mobile operating system for an expanded line of Treo smartphones. The Treo 700w was to debut on the Verizon network in early 2006. The future would never be the same again.
October
October got off to a bang with Palm releasing two new Palm OS PDAs. The Z22 is Palm's first sub $100 entry level color handheld in a small and light package designed to go after the paper organizer market. The Palm TX handheld was released to positive reviews, featuring a 320x480 pixel screen and both Wi-Fi and Bluetooth.
Later that month, PiTech announced they had developed a 3 megapixel Palm OS smartphone. The GSM smartphone features an auto-focus camera, a quad band wireless radio with EDGE data support and a QVGA display and Bluetooth. It is expected to launch in Europe and Asia in the second quarter of 2006.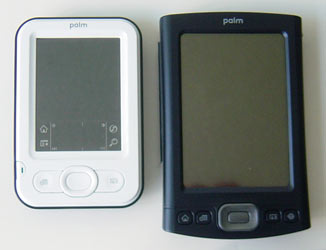 November
November opened up with Palm denying a rumor that they were working on a Symbian OS Treo. Palm also announced that they continue to open new retail stores including five new ones in California. Palm CEO Ed Colligan also released a letter reaffirming Palms commitment to the future of the Palm OS amid growing speculation that the company was moving away from its long time operating system.
We also learned for the first time that Palm has a number of new Treos in the works. An investment company released a report detailing that Palm was working on new models including a new high end design code-named Hollywood and a possible entry level Treo model code-named Lowrider.
Novemember was also the month that saw ACCESS completing their acquisition of PalmSource. PalmSource is now a wholly owned subsidiary of ACCESS and is no longer a publicly traded company.
PalmInfocenter also debuted a new Palm OS software store this month. The improved store brings big discounts on Palm applications and also features a mobile store where users can download and buy software on their devices wirelessly.
December
In the last month of 2005 Palm announced very profitable quarter, its eigth consecutive quarter of year over year double digit revenue growth. Strong Treo 650 and handheld sales helped to boost the company's bottom line. Palm also officially revealed that they will announce three new smartphones in 2006.
2005 was definitely a major milestone year in the Palm OS timeline. Treo smartphones really began to take off, a lot of innovative devices were released and many surprises and transitions within the Palm economy took shape. Thanks to everyone for making 2005 a year to remember here on PIC and here's to an even better 2006.
Article Comments
(91 comments)
The following comments are owned by whoever posted them. PalmInfocenter is not responsible for them in any way.
Please Login or register here to add your comments.

Only the first 50 comments are displayed within the article.
Click here for the full story discussion page...