Must Have Treo Freeware Applications
Wednesday, March 8, 2006 9:19:17 AM
In this article Palm Infocenter highlights some essential must have Treo freeware applications. There is a wealth of free and open source Palm OS software out there. Read on as we take a look at 10 great programs, as well as a few others, to enhance your Treo smartphone experience.
Converter
Converter is a unit conversion tool. It does pretty much everything you'd ever need to convert. This app can convert 215 different types of things in 23 different categories, you can even setup a list of your most frequent conversions.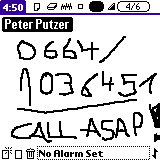 Diddlebug
Diddlebug is essentially an e-post it note application. It allows you to scribble notes on your Palm device using digital ink. You can then set alarms for each note from a pop-up list, and DiddleBug will not let you forget your reminder. I use this app all the time as a cooking timer for my pizza's, however you folks might have some more important things you need to be reminded about.
Directory Assistant
You have a smartphone right? If your Treo had an IQ, it would go up 20 smart points after installing Directory Assistant. This utility automates queries to the Residential and Business phone directories in the US. It will even preform reverse queries and look up names from phone numbers. You can easily dial from the results and even get maps and directions to results with a single click.
LED Off
So you got a new Treo and that blinking LED is annoying you to no end. You look for an option in the prefs to turn it off but there is none! Enter LED Off. It will not only turn off the pulsating green LED, but also opens up some extra LED functionality as well. You can set the LED to stay on when you have a new Voicemail, email or SMS messages or configure how you want the LED to behave.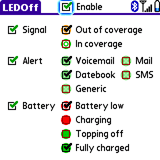 Mirror App
PDA mirror programs are great. The old glossy monochrome screens seemed to work best for mirror apps, though I think the extra treo screen grease layer helps. Color Mirror is my fav because it uses a dark shade of grey which gives better reflection than just a black screen on color devices.
Radio Control
Radio Control is a really handy application. It allows you to program a daily on and off cycle for your Treo's wireless radio. Thus allowing you to save on battery life if you'd like to have your treo automatically power down during the latenight or when you're not expecting calls. This app also forces the radio to start after a reset, something the treo doesn't always do.
SFCave
SFCave is _the_ classic Palm OS game. Originally released for Palm OS 2.0, this app has worked on every Palm I've ever used and is always one of the first games to be installed. Japanese developer Sunflat describes it best: "SFCave is the very simple but exciting action game. The cave is endless! There is no goal to reach!" Its amazing how such a simple game concept can be so entertaining.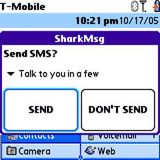 SharkMSG
SharkMSG brings an innovative new feature from the Windows Mobile Treo 700w to the Treo 650 that Palm and Microsoft said couldn't be done on the Palm OS. SharkMsg prompts you to send an SMS to the caller when you ignore an incoming phone call allowing you to decline a call with a friendly text message.
SoundRec
I really don't understand why none of the Treos has ever come with a built in voice recorder. It's about as smart a move as not including a mic on the Palm TX. SoundRec solves this and adds a free voice recorder software that only takes up 24k of program memory. SoundRec can record to internal memory or an SD card.
TCPMP
TCPMP has been a huge boon for Palm OS multimedia. This free and open source program handles all sorts of video and music files with the utmost of ease. You got a 700MB dvd rip on your SD card? No problem. Among the codecs it supports are Mpeg, Divx, Xvid, H.264, mp3 and ogg video and audio formats. Any video optimized for the video iPod should work fine with TCPMP. It's also a great app for podcasts on the go as it supports the fancy enhanced podcasts (m4a with image slideshow).
Use VeMode to convert your own video content to a mobile format.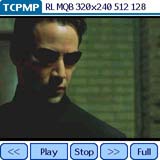 Honerable Mentions...
Also honorable mentions to: AIM for Palm (old free version from AOL UK, still works), Real World Blackjack (great free blackjack game & casino coach, 33k, works w/5-way), BigClock (just don't hit the menu key!), BlueJacker (making a boring situation in a crowded space more entertaining), Flight Status (check airline information), Palm PDF (the name says it all) and FileZ (still the best free Palm OS File Manager).
I made this list Treo centric because it contains a number of treo 650/600 specific apps, however other Palm OS devices can take advantage of some of these programs as well. While the apps above are freeware, developing software takes time and hard work. Most developers accept donations on their websites and or have other commercial products worth checking out too. Want more cool treo apps? Check out the PalmInfocenter software store.

- 10 Apps to a better Treo (or Centro).
Article Comments
(28 comments)
The following comments are owned by whoever posted them. PalmInfocenter is not responsible for them in any way.
Please Login or register here to add your comments.