Seidio Rubberdized Treo Case Review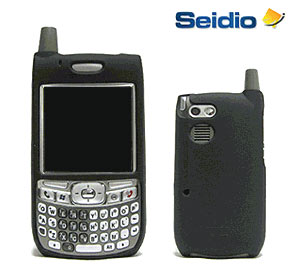 By: Kris Keilhack
August 14, 2007
After a disastrous start with the peeling paint of 2004's Zire 72, the soft-touch rubberized paint has slowly been growing more popular on various products released by Palm. From last year's Treo Hardcase (reviewed here), Treo 650 "Black Tie" special edition and GSM Treo 750 to this year's new CDMA Treo 755p, Palm has steadily been rolling out products incorporating this coating for a more secure, luxurious finish. Now Seidio, a popular manufacturer of peripherals for all types of handheld devices, has released a new Treo 700-series hard case that lets owners of non-rubberized Treos enjoy this remarkable finish.
After spending some time recently with a Sprint Treo 755p, I became determined to find a something similar for my 700p.
Styling & Availability
A few minutes of online research revealed that Seidio's offering was the only definitive candidate for a lightweight, rubberized hard case for my 700p. I was delighted to see none of the bulky frills that mar many otherwise fine cases: no fragile belt clip, useless SD slots or awkward flaps here! The case is just as thin and I hope for it to be and the smooth rubberized, back panel is ideal for easy pocketing. The Seidio Super Slim Rubberized Case encloses the Treo within a fantastically smooth, lightweight shell only 1.2mm in thickness. In my opinion, it also drastically adds to the device's aesthetic appeal (yes, I still think the BlackTie 650 was the best-looking Treo ever).
When in doubt, solid black is always my color scheme of choice. So you won't find any quibbles from me in regards to this case not being offered in every color under the rainbow. My man Henry Ford said it best!
Packaging
I ordered the case online for $29.95 plus shipping and handling. The initial opening of the no-frills cardboard box revealed the usual minimalistic Seidio packaging. The case was in a little plastic baggie with a foam insert wedged in between. I was disappointed to find no installation guide or printed material whatsoever in the box. According to several other reports online, Seidio has been including an assembly diagram with this particular design. Nevertheless, I proceeded with the installation undaunted but a bit cautious. Prospective purchasers may peruse a PDF assembly diagram here on Seidio's site.
Case Design & Construction
My initial impression with this shell case is one of surprisingly good craftsmanship and attention to detail. Unfortunately, my initial fears surrounding a successful assembly of this thing soon became reality. "No worries", I thought. So I tried again. And again. And again. After a good half-hour, I finally figured out that going in clockwise pattern starting with the top right corner with the Treo powered off worked best. All was fine until I reached the final snap, located near the base of the antenna and above the side volume buttons. I was unable to snap the final section of the case together. I didn't want to push too hard and risk breaking off the tabs or worse, my Treo's LCD. I finally pulled out a Swiss Army knife and used the tip of the thin blade to gently lift top panel up while I pushed down on it. It latched without the reassuring "click" I was hoping for.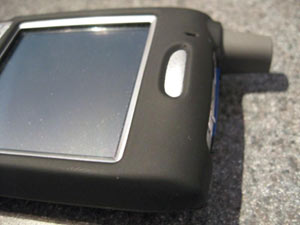 The backside of the case is especially well done, with an integrated stylus hole for users of the Seidio 700-series battery door. The camera lens was not obscured and I had no problems removing the stylus from its silo.
The interior is a glossy black that is otherwise unremarkable. The case is devoid of any prominent branding other than a small embossed Seidio logo and Treo 700-series description at the bottom of the back panel.
One fringe benefit of this new Seidio case is that is has allowed me to eke out a bit more life from my dilapidated Smartphone Experts Ultraslim Pouch Case. After a strong start, the SPE pouch has disappointingly become so stretched out and battered that my Treo flies out of it even with a Seidio 3200mAh "rumpshaker" battery installed. But with the thick rubberized Seidio shell encasing my Treo, it fits securely into the SPE case and the LCD and keyboard receive additional protection. Voila!
Usability & Performance
After getting it assembled, my impressions of this Treo case were that it might have a chance to reach smartphone nirvana! No ports or connectors are obscured with this case, and the improvement of the Treo's "in-hand" feel is amazing. I even found typing on the Treo's keyboard easier due to the bit of added extra thickness (I have fairly large hands and fingers). I also noticed that I no longer accidently press the side keys as frequently. Let me again reiterate HOW nice this case feels when held in-hand. If I were to award a case an individual rating for tactile feel and feedback, this would be an easy 10/10.
After just a few minutes of actual use, however, my opinion changed drastically. While not the case's greatest flaw, the design of the front cross-bar running below the LCD constantly interfered with the Treo's d-pad. Sometimes the case caused "up" to be actuated when I was trying to click the center button. Most aggravatingly, at other times, the touch screen would register random inputs when I squeezed the sides of my Treo or pushed a hard button. Regardless of the condition, I found this bar constantly aggravating and impeding the daily usability of my Treo. I even dismantled the case and attempted to gently "stretch" the bar out and adjust it so that it was raised a bit over the screen. No matter what, the bar continued to plague me despite my best efforts.
Additional problems manifested themselves during my first full day carrying the Treo in this new enclosure. The side buttons would occasionally register a press (likely from the case's tight fit) and the front flashing LED was partially obscured.
After two nightmarish days trying to live with the case I was prepared to award it a 0/5 review and return it to Seidio. But I then had an epiphany --I remembered that my 700p differed from a stock Treo in two small ways! I have a Seidio battery door with reset button (reviewed here) and the "OEM-size" 2400mAh Seidio battery in my 700p. I raced upstairs to dig out my original Treo battery and cover. After swapping out my previous two Seidio accessories so that I could use the new one, things changed considerably. The case popped together quite easily and I only had sporadic issues with the Treo's d-pad and touchscreen, usually attributable to that damnable crossbar running between the screen and d-pad. The small bit of added thickness from the 2400mAh battery makes that much of a difference! Seidio really should be admonished for not clearly stating the incompatibility between their extended battery and this case on their website's page for this particular product. I am uncertain if the similar Treo Crystal Case has these same sorts of issues.


Prior to the arrival of the rubberized Seidio case, I used my Seidio 2400mAh battery in my 700p on a daily basis. That battery is very slightly thicker than the stock Palm OEM battery. It's not an imperceptible difference but it's a close one. One would think that a Treo 700 used in conjunction with a Seidio battery cover, a Seidio extended battery and a Seidio shell case would work just fine in tandem. That's not the case here. Seidio's own accessories cause conflicts with each other! Not good! I tested the various combinations of batteries, doors and this case with three different 700p's just to make sure it wasn't an aberration with my personal Treo.
In short, to make it through a single day with no unwanted touchscreen or side button presses, I had to return to my original Palm stock battery door and battery combo. Subsequent testing revealed that the combination of the stock Palm battery and the replacement Seidio door didn't present too many issues and allowed me to use the rubberized case's stylus tip reset button opening.
Just to be thorough, here are the results of the following combinations of batteries/covers:
Palm OEM battery + Palm OEM door:    =          Works great w/ no issues
Palm OEM battery + Seidio "hole" door   =          Works great w/ occasional issues
Seidio 2400mAh battery + either battery door =          Totally unusable
Unsurprisingly, I was unable to fit my 700p in the Palm Treo Hotsync cradle while it was clad in the Seidio case.
Pros:
Lightweight and fairly protective protective
No belt clip so case is very thin
Super stylish with excellent fit & finish and OEM-like rubberized coating
Reasonable price considering the quality
Cons:
Totally incompatible with Seidio's own 2400mAh battery & battery + reset button door combo
Difficult installation
Case will fall apart when dropped or bumped
Crossbar interferes with the d-pad and occasionally with touchscreen input
No protection given to LCD or keyboard
Treo becomes too thick to use with the Palm Treo Hotsync cradle when case is attached
Conclusion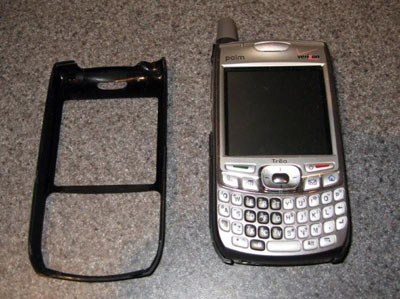 The Seidio Ultraslim Rubberdized Treo 700 case is undoubtedly the best case I've had the pleasure of owning. It also happens to be the worst case I've ever used. I really wanted to love this case and award it a perfect 5/5 rating but I just cannot live with all of the quirks and compromises! Had Seidio fully disclosed this case's incompatibility with their own "OEM-sized" battery I probably wouldn't have bought it. Two weeks and counting and I still cannot allow the fantastic tactile feel and light weight of this case to override the usefulness of my extended Seidio battery.
This is an ideal case for Treo 700 users who can live with the standard 1800mAh Palm battery and like to carry their Treos "naked" but desire a bit of protection in addition to improved security when held in the hand. In my opinion, Seidio needs to produce a very slightly larger variant of this case for users of their extended 2400mAh batteries and tweak the tightness of the front section's crossbar. The combination of a Seidio 2400 mAh extended battery, Seidio replacement battery cover, and non-flaky rubberized hard case would be true Treo 700-series perfection. Until this happens, for my personal needs, the advantages of a slim extended battery and a battery door with reset button sadly outweigh this case's positive aspects.
My Rating:

2.5 / 5
Article Comments
(3 comments)
The following comments are owned by whoever posted them. PalmInfocenter is not responsible for them in any way.
Please Login or register here to add your comments.