Palm Treo 680 Review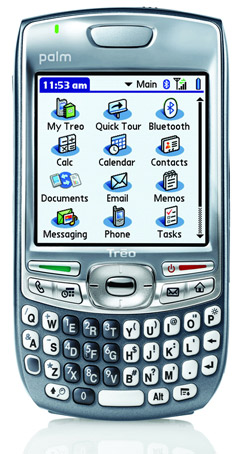 By: Ryan Kairer
December 4, 2006
The Treo 680 is the fourth and final new Treo promised by Palm prior to the start of 2006. When it was announced it was billed by Palm as a lower cost, more affordable Treo. Palm has hopes that more customers migrate from the realms of feature phones and choose a Treo. To date price, complexity and the larger form factor of smartphones have held back most average users from choosing a smartphone. The Treo 680 addresses these points and debuts with the lowest introductory price of any new Treo smartphone.
Besides the nice price, the best new aspect of the Treo 680 is its slimmer and lighter form factor. While it doesn't seem like much of a difference on paper, the new size feels absolutely great and won't weigh down your pocket. Compared to the Treo 650 or a 700p, there is a very noticeable difference in weight, not so much with the thickness. The 680 is 2.3mm slimmer, but still a bit on the thick side for a mobile phone. It holds well in hand and grips better due to its more angled in sides. It also looks much more attractive, though slightly less distinctive without its external antenna, however that won't be missed by most.
The top of the 680 has a smooth black portion that contains the IR window and the silent mode switch. The silent mode switch now vibrates when activated, giving you a physical confirmation that it is engaged. It's also been made flush against the top and the notch shows a red strip to let you know its in the on position. The left side has the volume keys and a customizable side key, which is set to activate the voice recorder by default.
The right side is free of buttons and holds the SD card section in the center. The SD slot is now tucked away behind a small plastic door. The door is easy to access and remains hinged to the side via two flexible rubber joints. On my unit the cover seemed a little flimsy. When closed it doesn't always stay totally flush with the side and the cover pokes out a bit. While not a huge problem, I wonder if it would get worse over time.
On the top of the front-side is a small LED that simply now indicates battery charging status and also lights up when the phone is booting and when the radio powers up. In the center to the right of that is the main phone earpiece speaker. Thats followed by the display, the application and phone buttons, 5-way navigator and the thumb keyboard. Along the very bottom is the 2.5 mm headset port, charging and hotsync connectors and the phone mic.
The center 5-way navigator is a bit larger and has more of a inward curve to it making it a little easier to grip and thumb around with. The row of application buttons below the screen are user changeable and by default take you to the Phone app, Agenda view (calendar), email and home (programs). Hitting the blue option key before tapping a button gives you a few more shortcuts which you can also customize. The app buttons are now literally paired up together on each side, though they still operate independently. The home button has a new feature if you hold it for a few seconds it brings up a pop-up list of your last 8 apps.
The Treo 680 has the now standard green and red dedicated send/end call buttons just below the display. The red end key also turns the screen on and off and activates the keyguard. The end key is now the only means to end a call, as the onscreen display icon option has been removed.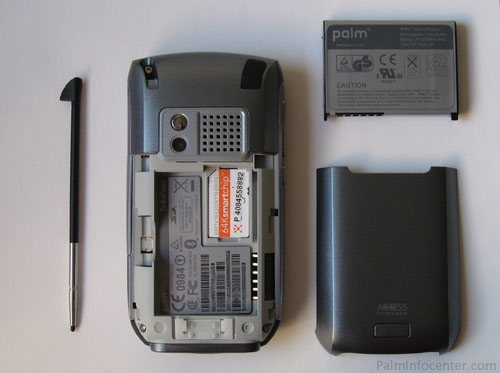 The keyboard has square thumb keys in a smile pattern arrangement. This time around the keys are a little smaller and packed in slightly closer together. Palm has even changed to font used on the keys to fit better. I didn't notice a big difference in typing speed or accuracy. The overall thumboard experience wasn't any more difficult than earlier models, but its worth pointing out even if the changes are relatively minor. The backlighting on the keyboard and buttons is bright and consistent and the keys have a nice white illumination.
The stylus silo is in the usual top rear corner the back, while on the other side of the top back is a black rubber cover for the internal antenna. Just below that in the top center of the back is the speaker grill, camera lens and portrait mirror assembly. On my standard color Cingular unit, the grill is a lighter silver color with a square row of speaker holes in a 6x6 pattern. The included stylus is mostly a thin black plastic rail with a small metal tip portion. It's pretty flimsy and can actually bend a bit with pressure.
The Treo 680 has dimensions of 2.29" x 4.40" x 0.8" inches (58.4 x 111.8 x 20.3 mm) and weighs in at 5.5 ounces (156g).
One interesting design change is the removal of the reset button. You're simply expected to disconnect the battery in order to reboot the Treo now. The same procedures apply for hard resets, simply remove the battery while holding down the power button as the device reboots.
The 680 is the first Treo to be made available in a variety of colors. The colored editions are sold as "Unlocked devices" exclusively from Palm.com. The SIM unlocked version denotes that it can be used with just about any GSM service provider with an existing GSM/GPRS/EDGE service plan. Cingular only offers the "graphite" color model and it is SIM locked to the Cingular network. Palm is currently offering the 680 in four colors: graphite (gray), copper (orange), Arctic (white) and crimson (red).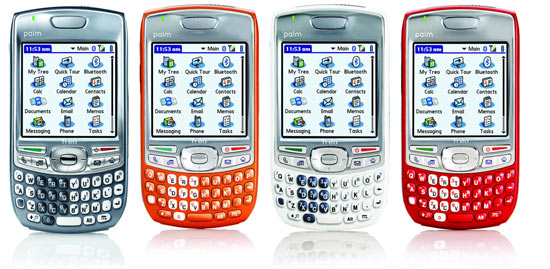 Hardware
The Treo 680 is powered by a 312 MHz PXA270 Intel XScale processor. It has 64MB non-volatile internal flash memory available for user storage. The dbcache is now up to 24 MB and the dbheap has a 10 MB capacity.
The Treo 680 has a SD/MMC memory expansion slot. It includes a FAT32 driver which adds support for SD cards up to 2 GB in size. Most standard 4GB cards will also work, but there may still be some incompatible ones out there. While the SD slot does support SDIO accessories with Palm OS device drivers, Wi-Fi via an SD card is still not supported. Palm has stated they have no plans to support WiFi on this model. The new SD slot cover provides an extra bit of security as you won't have to worry about about lost cards from tragic pocket ejections or accidental bumps.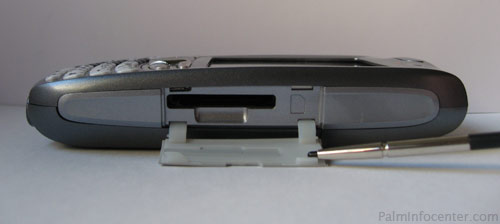 Display
The Treo 680 has a 2" x 2" inch square touchscreen display. It is a 320 x 320 pixel TFT screen that supports 65,000 colors. The display is plenty bright, even at the middle brightness setting, and holds up well outdoors and in direct sunlight. The screen is a slight, but noticeable improvement over the Treo 650's. Colors are richer with better overall color saturation, improved depth and whites stand out better when compared side by side.
Having more pixels than most other smartphones is a definite selling point. People are often impressed at the quality of digital video the small Treo screen. CorePlayer supports pretty much all the formats including avi, mpeg, divx and mp4 (video iPod) files. You can convert your own videos using VEMoDe and there are a number of DVD mobile conversion programs. There is also a free app available that can automatically convert content from a Tivo DVR.
Camera
The Treo 680 has a built in VGA camera with 640x480 (0.3 megapixel) resolution and automatic light balancing. It has 2x digital zoom and can also capture movie clips in the .3gp format. Pictures are captured at a max 640x480 size, and movie clips have a 352x288 resolution. The camera's performance is equal to the Treo 650's. The resolution is very low and shots almost always end up being a little blurry and soft. It is disappointing Palm couldn't fit something a little better in here, but it works fine for quick shots on your phone and for creating picture contacts. Here are a few unedited example shots taken with the 680:
Bluetooth
The Treo 680 has built in Bluetooth wireless capabilities. This allows for accessories such as wireless Bluetooth headsets, GPS navigation kits and using the 680 as a wireless modem for your laptop. The v1.2 spec allows for faster device connections and adds the ability to use multiple Bluetooth devices concurrently. There is a new option to leave the device in discoverable mode for a short time period.
Phone
The 680's phone is a GSM/GPRS/EDGE Class 10 device. It has a quad-band (850/900/1800/1900) capable radio. Data speeds on EDGE networks in the US usually average around 80 - 130kbit/s. When an EDGE connection is not available the 680 can fall back on GPRS data speeds. Palm says the internal antenna has better RF reception than the Treo 650's external stub antenna. In my informal tests the 680 matched the 650 in signal strength wherever we went and I never noticed a big difference in signal strength.
The 680's phone is powered by a new Broadcom BCM2133 chipset. The overall call and sound quality was a lot better than what I was used to with the GSM Treo 650. The call quality was much clearer and calls dialed out and connected quicker. The volume is also improved and now works at a satisfactory level. This was a big concern seeing that VolumeCare and other Treo utilities that increase the call volume limits have been some of the most popular Treo apps out there.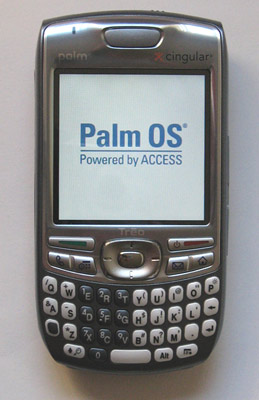 The 680 has some other notable improvements to its phone hardware. It has a reduced Specific Absorption Rate (SAR) rating. SAR is a value that corresponds to the relative amount of RF energy absorbed in the head of a user of a wireless handset. The GSM Treo 650 was one of the highest-radiation mobile phones in the US with a SAR of 1.51 W/kg. The Treo 680 has almost half that with a 0.780 W/kg rating. I also had a annoying issue with my GSM 650 interfering with many stereo speakers and some CRT monitors. It would often produce a buzz when the radio was active or when a call was about to come in. I also hear this effect some car and personal radios. Thankfully the 680 does not exhibit this same interference behavior and coexists peacefully with my speakers while resting on my desktop.
Audio
The 680 has the usual Treo dual speaker design, with the front earpiece speaker used for phone calls only while the rear handles the speakerphone, sysytem sounds, games and music. If you want to listen to digital audio via a headset with standard headphones you'll need to use a 3.5mm stereo adapter accessory. The rear mono speaker is well placed next to the camera on the back and can get quite loud. There is an varied selection of ringtones that can also be used as alarms. You can even record your own sounds to be used as a custom ringtone via the voice recorder. You can transfer wav and midi files via Bluetooth, beaming or hotsync to your device for use as ringtones as well.
Phone Functionality
The Phone application is the centerpiece of the phone functionality that controls calls, contacts, dialing, call log and accessing your shortcut favorites buttons. The Treo 680 includes v3.0 of the Phone app, which sports a new five tabbed simplified user interface. It integrates all the common phone functions and makes it easier to jump between the various screens. The phone application is also the main place that displays your phone signal and battery strength, bluetooth status, data status as well as the number of new text or email messages. You can customize the wallpaper and there is also an option to show your next upcoming calendar appointment.
From the main phone screen you can simply start typing in letters and it will display your matching contacts, or just tap right on the d-pad to browse all of your contacts. You can also press the green send button when on the main phone screen to bring up a quick list of your recently dialed calls. The favorites tab allows you to setup quick shortcuts to frequently dialed numbers, groups of contacts, device applications, emails and also web links. It now shows the list of shortcuts in a single horizontal list that grows as you add new favorites. The phone dialing pad with the large onscreen numbers and call history log each have their own tabs as well.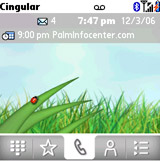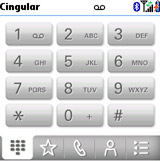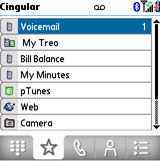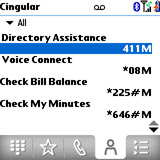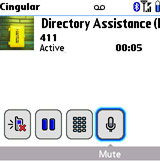 The call in progress screen has also been revised with some nice new features. When a call made, the screen shows a small treo icon next to the name or number. If the current number has a picture stored in the contacts it will show their personal picture as an icon. Call related options and functions are available as large on screen buttons and now have a small text bar along the bottom that describes the current highlighted option. With one click you can activate the speakerphone, start a conference call, mute, switch lines on call waiting or exit out to the device to lookup something in your datebook or other application and remain on the call. When a call ends with newly dialed or unknown number, the Treo will ask if you want to save the number as new contact or add to an existing contact. It's a nice feature and you can also shut it off if you don't need it.
When you have an incoming call, the phone displays the name and caller picture (if you have one assigned). Underneath the answer and ignore options is a large button that allows you to "Ignore by Text." This is a popular feature taken from the 700w that enables you to decline a call and quickly type in an sms message letting the caller know you are busy.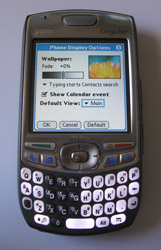 One Hand Operation
Even though it has a touchscreen and stylus available, the 680 really excels at one-handed operation. The 5-way navigator and on screen blue cursor combine to make most actions and tasks work without having to tap on the screen. In fact, it's pretty rare that I even use the stylus, except for games. Its a well implemented feature that really makes using the smartphone more intuitive and enjoyable.
Battery
The Treo 680 has a 1200 mAh Li-ion rechargeable battery that can be removed via the cover on the back. Official battery lifetime is rated at 4 hours talk and 300 hours standby. I can tell you that you won't get anything near 300 hours standby as battery performance was disappointing. It was a step back from what I was used to with the 650's decent battery life. Even with light phone use I would have to charge every other day. Sometimes just leaving the phone on overnight I would find it drains by about 15 - 20% by the next morning when it wasn't being used. (UPDATE: This problem has been remedied by the Treo 680 Camera Update.)
The 680 doesn't seem any more power hungry, it just uses a much smaller battery that has less capacity that its predecessor. Unfortunately that's the trade-off Palm had to make to design a smaller and lighter model. While the battery life is not totally terrible, it will seem a lot shorter if you're used to the 650. Even with heavy use you'll at least get a days worth out of it, which is comparable to other smartphones currently on the market. Larger capacity aftermarket batteries will eventually be released, but in the mean time you'll likely need to keep the charger close by or pack a spare if you're a heavy power user. Of course, battery life varies greatly with how you personally use the device and its features.

Software
The Treo 680 runs the Palm OS Garnet operating system v5.4.9. While this is still the same Palm OS 5 Garnet core, there have been a number of improvements to the Palm Treo platform that extend the functionality and multimedia capabilities of this device.
Besides the new phone app, the included software is virtually identical to the Treo 700p. Present is the usual Palm PIM suite which includes the Calendar, Contacts, Memos and Tasks (ToDo). Voice Recorder is present for voice memos, Pics&Videos does a good job organizing and displaying your photos and videos shot with the Treo. The whole user manual is included in the MyTreo app, which is a good way to get to know the ins and outs of the device and it also provides some basic tips and tricks for getting the most out of the device.
Pocket Tunes is included on the device for MP3 digital audio and music playback. Owners will have an option to upgrade to Pocket Tunes Deluxe for WMA/PlaysForSure support to subscribe to online digital music stores. Pocket Tunes works well and has robust support for playlists, background play and sorting through artists and tracks on SD cards. The 680 also has some of the nice streaming media features that debuted on the 700p. Both video and audio streaming over the Internet is now built in. You can access many common live radio and video streams. For instance, you can navigate to npr.com in the web browser and click on the 'live audio link' the media player will launch and start streaming NPR's live radio feed to the Treo. You can also visit a some movie preview websites such as Netflix.com and watch the streaming movie trailers.
Documents to Go v8.003 is included for office support. Docs to Go supports creating and editing native Microsoft Word, Excel and Powerpoint files. v8 also includes PDF to Go, which is a native Adobe PDF viewer. You can view and edit office files received from email attachments, stored on SD or beamed and transfered to the device. Docs to Go also comes with a hotsync client that can keep your documents in sync with your desktop.
Email
Versamail v3.52 is included as the default email client, and has been renamed to simply "Email." It supports POP, IMAP and Microsoft Exchange accounts. The program also has preset support for Gmail, Yahoo Mail, .Mac, AOL email and others. For Enterprise users whose organizations run Microsoft Exchange Server 2003, the Treo 680 has built in Exchange Server ActiveSync that will directly import and enable corporate email, calendar and contact synchronization. Versamail is a fairly good email program, and if you are looking for push email options or other clients there is a wide selection of alternatives available.
Web
Blazer v4.5 is included for browsing the web. Blazer has been enhanced with new caching rules that make browsing both mobile device optimized and full size websites a more pleasant experience. Instead of having to refresh and reload the entire page each time you exit the browser or use the back and forward buttons, the page is reloaded from the device cache. This enables much faster navigation and rendering when browsing the web or jumping from the browser to another application and back. Palm has also improved JavaScript support, which increases the number of sites accessible and usable on the device. Previously on the 650, sites that used Javascript would render many sites inoperable and would sometimes even cause the treo to reboot. The browser is also better at loading and displaying larger, designed for desktop sites.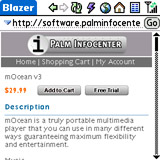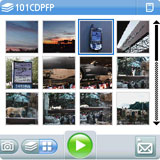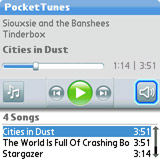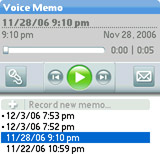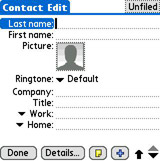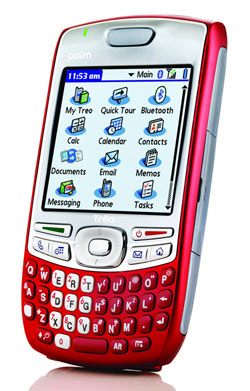 One the desktop side of things, Palm includes their Quick Install program for Windows. Quick Install simplifies installing Palm OS programs and converting documents and photos. Users can drag zip files, prc application files, photos, videos and even MS office files into the app and it will preform the necessary conversion and install the the files on the next hotsync. The software CD includes the Palm Desktop v4.2 for Windows XP/2000 and Mac OS X (10.2 and above) as well as the palmOne Outlook Conduit.
Don't forget, there are thousands of commercial, freeware and open source applications, games and utilities available for the Palm OS platform that you can download and install to your device in addition to what is built-in. There is a active developer community that creates some very handy treo specific programs and utilities that can enhance your device.
A unique new service that comes with the 680 is that Cingular and Palm will offer free telephone customer help desk support for 90 days after purchase. This is meant to help new customers get setup smoothly and answer questions. They will help users do anything from setting up email to customizing ringtones.


Summary
Treo 680 brings a much needed slimmer look and feel to the Treo line at a very nice price point. While still not the flashiest or thinnest smartphone out there, the Treo 680 still demonstrates why the Treo leads with its ease of use, large software library and powerful functionality. To trim the size a significant battery life compromise had to be made which may be a deal breaker for some. However the lighter load on your wallet and pocket make up for keeping a spare battery close at hand. Technical nitpicking aside, the Treo 680 is a very powerful smartphone that is a very capable and easy to use.
The unlocked Treo 680 is available in four colors exclusively from Palm.com for $399 USD. It is available from Cingular for as low at $199. The $199 price applies after a two year contract agreement and a unlimited data plan. It will also be available for $279 with a one year agreement and $449 with no contract commitment.
Article Comments
(112 comments)
The following comments are owned by whoever posted them. PalmInfocenter is not responsible for them in any way.
Please Login or register here to add your comments.

Only the first 50 comments are displayed within the article.
Click here for the full story discussion page...