Palm Q2 FY09 Conference Call Highlights
Thursday, December 18, 2008 3:54:11 PM

Palm Inc. today reported their sixth consecutive quarterly loss. After pre-announcing significant declines, Palm reported total revenue of $191.6 million with a net loss of $(508.6) million. The larger than usual loss was primarily inflated by a $396.7 million tax provision charge on its U.S. deferred tax assets. On a non-GAAP basis the net loss was still a staggering $(80.2), or $(0.73) per diluted share.
The company also saw a massive contraction in smartphone sell-through, which was down 42% (or about 400k units) from the previous quarter and declined nearly 12% from a year earlier. Stating "We're working through an undeniably difficult period," Palm CEO Ed Colligan squarely placed the blame on the maturing Palm OS line and Centro products combined with the extremely tough economic climate.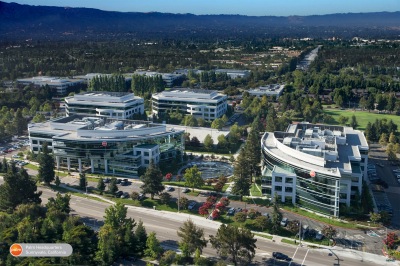 In a departure from the usual format, the call began with the outgoing CFO Andy Brown delivering the financial data. Smartphone revenue accounted for 89% of the total at $171 million on 556k units shipped. Handheld revenue came in at $21 million with a sell-through of 150,000 units, a 51% year over year drop off. Palm's average selling price for smartphones rose a bit to $305 due to the newly released Treo Pro. Overall gross margins dropped to 20.1% mostly due to charges related to inventory component purchase commitments.
Andy Brown also talked about Palms recent efforts to contain costs and manage cash burn. Palm currently has around $220 million in cash and is carefully managing that while still ensuring that they adequately fund their next generation product development. Recent cost-savings initiatives, include reducing its U.S. work force by around 10%, consolidating European operations, and shifting responsibility for Asia Pacific sales, marketing and administrative support to its U.S. offices.
Ed Colligan then took the call and began by thanking Andy Brown and wishing him well saying he has been key part of Palms transformational efforts and was particularly instrumental in the recapitalization transaction. Mr. Brown will be stepping down effective Jan 7th, he will be succeeded by Douglas C. Jeffries, who was previously the chief accounting officer at eBay. He then went into the business details and started of saying "clearly we are operating in a extremely tough climate and we expect to face continued challenges in the coming months."
Ed stated they they understand that a new "pipeline of products" is necessary to maintain momentum, and we will soon be replacing our aging product line with its next generation products. He warned there are still a number of rough months ahead, especially during the next quarter. He does not project a possible return to profitability until sometime in calendar year 2010.
In a rare note of positive forecasting, Ed was willing to share was that Palm plans to launch the Treo Pro with a major US carrier during the current quarter. Many months of rumors and a recent internal memo leak, almost certainly point to this being a CDMA version of the Treo Pro on Sprint.
Waiting for Nova...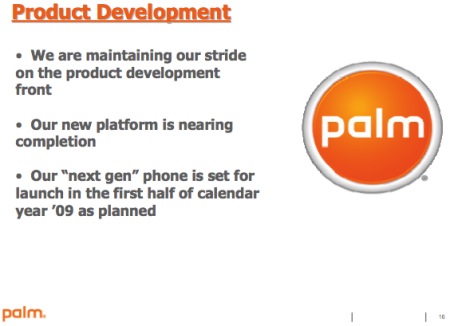 The topic of the new operating system was brought up many times, however as before, virtually no hard details were revealed. Eveyone is going to have to wait for the big CES announcement. Colligan said they have had some early disclosures with select carrier partners and developers whom have been "universally excited." Colligan did reaffirm that the first products would ship sometime before the end of Palm's fiscal 2009 (late June) as has been planned. He did let slip a small detail about the new product as he actually referred to the unit specially as a "Phone".
Another key refrain Ed used a number of times throughout the call was that the new OS would have to stand out as a "differentiated product." In response to a question he did state that the new OS and its products would be more targeted towards consumer/prosumer applications and that Windows Mobile would remain as their enterprise product.
Looking Ahead...
A couple of interesting questions came up in the Q&A. One questioner asked if there would be any upcoming product refreshes before Nova. Ed responded that other interesting tidbit is that besides the expected US Treo Pro carrier announcement, there will not be any future product announcements before the next-generation products.
The End of the Handheld Business?
Another analyst plainly asked when it would make sense for Palm to shut down the handheld business. Colligan replied that it continues to sell and they would push them out as long as there is still sufficient demand. However he was quite frank and stated they are not developing new ones, and as such there is an inevitable end to the product line.
The following audio clip is from outgoing CFO Andy Brown talking about Palm's challenges and prospects going forward.
Article Comments
(79 comments)
The following comments are owned by whoever posted them. PalmInfocenter is not responsible for them in any way.
Please Login or register here to add your comments.

Only the first 50 comments are displayed within the article.
Click here for the full story discussion page...