Palm Introduces 3D Games for webOS
Thursday, January 7, 2010 12:11:40 PM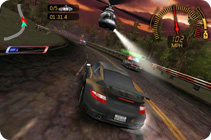 Palm, Inc. today introduced several graphics-intensive 3D game titles for webOS, from leading game developers EA Mobile; Gameloft; Glu Mobile; and Laminar Research. Demonstrated at Palm's CES event, the games will be available today in the Palm App Catalog for Palm Pre customers.
"We are very excited about the potential of webOS as a platform for mobile 3D gaming," said Katie Mitic, senior vice president, Product Marketing, Palm, Inc. "This is a key application category, and we've worked closely with some of the leading game developers to deliver a great game experience for our customers."
Seven 3D games were introduced today in the Palm App Catalog for Palm Pre customers:
"Need for Speed Undercover" (EA Mobile)
"The Sims 3" (EA Mobile)
"MONOPOLY" (EA Mobile)
"Asphalt 5: Elite Racing" (Gameloft)
"Let's Golf!" (Gameloft)
"Glyder 2" (Glu Mobile)
"X-Plane" (Laminar Research)
Five other mobile games were also introduced: EA Mobile's "Tetris," "Sudoku," and "SCRABBLE," and Gameloft's "The Oregon Trail" and "Brain Challenge."
"Recent improvements to Palm webOS represent major advancements in enabling world-class mobile gaming," said Travis Boatman, vice president of Worldwide Studios for EA Mobile. "These innovations have allowed us to quickly bring our best IP to the platform."
The developers introducing titles today have had early access to the Palm webOS Plug-in Development Kit (PDK), which extends the Palm webOS Software Development Kit (SDK) with a set of tools, documentation and APIs that let developers write plug-ins for their webOS applications. The PDK lets developers easily integrate C and C++ code into their webOS applications, enabling new functionality, including immersive 3D games. A public beta version of the webOS PDK is scheduled to be available to all developers in March.
"The performance of the platform allowed us to create these great games in a limited timeframe," said Baudouin Corman, vice president of publishing, Americas, Gameloft. "webOS allows us to deliver an outstanding gaming experience, and we look forward to bringing our best games to Palm customers worldwide.""We expect the plug-in model to play an important role in the evolution of the webOS platform, just as plug-ins have with web browsers," said Mitic. "And with this plug-in, we are making it super-simple for developers to bring the hottest games to webOS."
The Palm App Catalog currently offers more than 1,000 webOS applications for download. Palm's unique over-the-air model also makes it easy for customers to get webOS updates and new features delivered directly to their phones. For example, at CES today, Palm announced that video recording, editing and sharing capabilities will soon be available for users of webOS phones. This new video capability will be delivered automatically to current and future Palm Pre and Palm Pixi products via an over-the-air update.
Palm also demonstrated Flash content in the browser on a Palm Pre and expects a free Adobe Flash Player 10.1 plug-in to be posted to the Palm App Catalog in the coming months. Palm expects webOS to be one of the first mobile platforms to support the full Flash Player in the web browser.
Article Comments
(13 comments)
The following comments are owned by whoever posted them. PalmInfocenter is not responsible for them in any way.
Please Login or register here to add your comments.