Palm Retail Roundup 5 - Handhelds Disappearing Fast
Wednesday, January 7, 2009 9:38:52 AM
In what is likely going to be the fifth and final entry in my long-running PIC series (here, here, here, and here) chronicling the gradual decline of Palm's retail handheld presence, I am sad but unsurprised to report that Palm handhelds are all but extinct from retail shelves. Indeed, these aging devices are now starting to become scarce online even from top-tier e-tailers, a sure sign of impending doom.
Alongside the new year and hopefully a new Palm OS, Palm launched a refreshed Palm.com website on Monday that quite dramatically shoved all of their three remaining handhelds out of the spotlight. Also affected were all of Palm's older smartphones, with only the Treo Pro, 800w and Centro remaining as active models.
A random sampling of brick and mortar and web-based retailers over the past week has revealed that TX, E2, and especially the Z22 look set to finally proceed into oblivion in the sad culmination to the era of the classic PDA.
Best Buy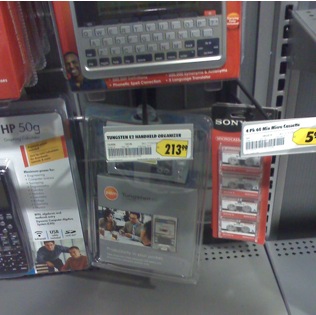 Due to some last-minute Christmas gift purchasing (and subsequent returning), I had the opportunity to visit three local Best Buy stores over the past two weeks. Of the three stores I visited, one had a single Palm TX alongside a few E2 handhelds with no Z22s anywhere in sight just a few days before Christmas. The second store I store was totally devoid of all Palm handhelds just a few days after Christmas. The last store I examined, on December 30th, had removed all of their Palm-related signage and had only a single lonely E2, still sadly overpriced, dangling on the bottom row alongside HP graphing calculators, Sony microcassette tapes, and a Franklin electronic dictionary.
On a related note, none of the three stores had the Treo 800w remaining in their wireless section, despite that device having been present in at least one of these stores several months ago. This lends further support to the rumor that the 800w is nearing EOL status and is to be replaced soon by a CDMA Treo Pro. In fact, Palm briefly listed a "CDMA + EVDO" Treo Pro earlier today on their new website in was either a major typo or a goof related to the new website launch. Speaking of the Treo Pro, that rare bird has been reported by some users as being available in some select Best Buy locations in unlocked GSM format but I have personally never seen one in-store so I cannot comment on its absence in my recent retail investigation.
Staples
Conveniently enough, two of the Best Buys I visited have Staples stores located in the general vicinity so I paid both of those a quick visit last week. Though I do not frequent Staples regularly, they've been one of the remaining stalwarts of Palm products at retail, often carrying accessories for the Treos not offered in the wireless carriers' corporate stores.
One of the Staples I visited was an older, free-standing, large-format store. It still had the Palm Z22, E2 and TX dummy devices on display and they all appeared to be in stock and on sale for the normal MSRP. Surprisingly enough, a fairly substantial selection of Palm-branded accessories remained available. The other Staples, a smaller footprint new store in a more densely clustered area uptown, had no Palm handhelds and a very small selection of Treo peripherals.
Online
Despite being slightly younger than the E2 and the same age as the flagship Palm TX, the Palm Z22 appears to be the most scare of the remaining Palm OS handhelds. A quick perusal of leading e-tailers Amazon, Newegg, buy.com, Mwave, and Zipzoomfly all turned up no new Z22 units for sale. In fact, hardly any new Z22s remain available anywhere aside from Palm.com, smaller dealers of dubious repute, and E-Bay. The most recent Palm Channelsource newsletter in November actually listed the Treo 680 as reaching End-of-Life status but strangely gave the Z22's SKU (1048NA) alongside it, so it's possible that both devices have met their demise.
Amazon and Mwave still have the Palm TX available for sale, with the best price for that device being $259.99 + shipping at Mwave. Amazon still has new E2's available for $189.99 with free shipping. Best Buy has the TX and E2 for sale in their online store but Staples.com lists only the venerable E2 as still in stock.
In general, the Palm TX remains the most widely available new Palm OS handheld online. With a 320x480 LCD, 128MB Ram and wi-fi, it's also the most appealing of the remaining Palm handhelds. As mentioned earlier, despite Palm.com's drastic cosmetic overhaul yesterday, the handheld section is still intact and just requires a bit of work to reach. All models are in stock and available for purchase from palm.com with a free shipping promotion as of this writing.
My Conclusion
There is no pleasant way to say this, so I'll be blunt: the end is nigh for the traditional PDA running the Palm OS. Anyone doubting this reality should only revisit CEO Ed Colligan's words during last month's quarterly earnings report conference call - the company has ceased development of traditional handhelds and will offer the remaining devices until the end of their life in the marketplace.
With unsubstantiated rumors swirling online that Palm is releasing all of their staff charged with maintain Garnet, it's even possible that the Centro, Palm's sole remaining Palm OS smartphone, may not have much of a future ahead of it.
2009 looks to be a potentially exciting, invigorating year for Palm and their users alike but the days of the Garnet OS and devices running it are definitely numbered. Anyone desiring a brand-new, factory-sealed Palm handheld should purchase one immediately. Those desiring an affordably-priced used model would be wise to scoop one up now while availability is plentiful and prices are low. I've got two TXs in the closet in case my trusty 755p finally expires. So no matter what happens in the immediate future, my twelve years of Palm OS PIM data will hopefully remain intact, despite the inevitable jabs about 8-tracks, Betamax cassettes and buggy whips!
Article Comments
(40 comments)
The following comments are owned by whoever posted them. PalmInfocenter is not responsible for them in any way.
Please Login or register here to add your comments.