2008 - The Palm OS Year in Review
Monday, December 29, 2008 12:07:20 PM

With a little more than a week to go until CES 2009 and arguably the most critical release in the company's history, we cannot overlook Palm's small but still news-worthy contributions to legacy Palm OS Garnet users during 2008. Regardless of what happens in 2009, for all its shortcomings OS 5.x Garnet remains a tried and true mobile OS that still enjoys a fair amount of developer, carrier, and user support. Let's take a few moments to review the most important events from Palm in what was unquestionably a transition year of carryover products and mild tweaks to existing devices.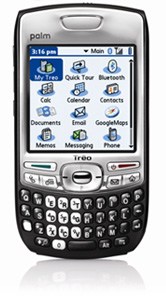 The year kicked off with the arrival of the much-delayed Verizon Treo 755p in Verizon corporate retail stores on January 7th. The device had technically been available online and via the company's B2B network in December in an exclusive teal color scheme. While on the subject of all things anticipated and delayed, Palm and Access' long-awaited release of the final release version of the Palm Desktop for Windows Vista also occurred in January. Unfortunately, official Palm Desktop support for 64-bit versions of Windows still does not exist, despite the industry rapidly shifting to embrace 64-bit computing.
February saw the widely expected launch of the GSM version of the Palm Centro in both unlocked GSM and versions for AT&T and numerous other global carriers. Also in February we began seeing the first of many aggressively-priced Centro promotions. The device's razor-thin margins were no doubt a huge reason for Palm's battered earnings reports from recent quarters. One silver lining amidst this gloom was word that the little Centro had reached 1 million units sold in March.
The arrival of summer brought a flurry of Palm OS and Centro news. AT&T kicked off the summer heat with the release of their exclusive icy "electric blue" version of the Centro alongside a price drop of the handset to $69 with 2 yr contract.
Verizon then finally jumped on board the Centro bandwagon with their ironically titled "cobalt blue" Centro in June, leaving only Alltel and T-Mobile as the main domestic wireless carriers not offering some form of the Centro. June also saw the release of a substantial firmware update for Sprint Centros, bringing them up to date with the Google Maps location functionality already embedded within the Verizon and GSM versions. Even though the new 2.0.2.0 version of Google Maps was compatible with all Palm OS devices, to the chagrin of Garnet Treo users everywhere, Palm only saw fit to update the Centro for Google Maps location functionality.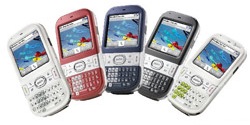 July was the month of firmware updates. Sprint finally brought their version of the Centro up to par with a substantial 1.07 ROM update in July, adding Google Maps location support and a number of smaller performance and stability tweaks. July brought about the Verizon 755p 1.08 ROM update, which I covered at length. Of course, what Verizon giveth they also taketh away, and their relatively young 755p reached EOL status in July, though Sprint and Alltel versions remains available as of this writing.
Around this time, the competition in the entry-level smartphone sector began to intensify tremendously and Palm announced a fourth consecutive quarterly loss. As a result, we began seeing "free" and heavily discounted Centros on all carriers from a variety of retailers such as Best Buy. Even Palm's remaining PDAs enjoyed a last turn in the spotlight of a nationally-advertised weekly sales flyer. Of course, hot on the heels of negative news was July's encouraging announcement of 2 million Centros sold in less than a year's time.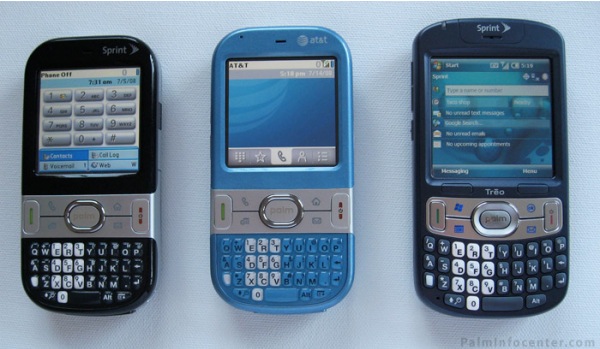 After a pretty active summer, things were fairly quiet on the Palm OS front at Palm until October's surprising announcement of a refresh of the Sprint version of the Centro. This surprise announcement brought two new colors, rose and green, for the holidays while retaining the traditional black. We profiled the Olive Green version here. Palm saw fit to improve the devices with their soft-touch rubberized exterior coating, a new 1.08 ROM version, the latest versions of Facebook and Google Maps preinstalled in ROM. Most importantly, however, Palm doubled the device's storage space to 128MB, the largest ever for a Palm OS smartphone. It's still unknown if these refreshes are a Sprint exclusive or will eventually be rolled out to other CDMA carriers and to the GSM Centro once existing stocks of the older 64MB version are depleted.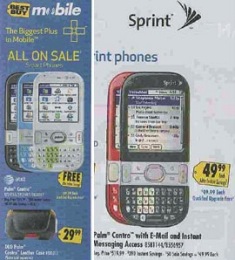 The Centro cost-cutting mania reached its zenith in October with Verizon "paying" customers $25 to take their Centro on a 2yr contract. Meanwhile, Palm's stock price continued to plummet amidst continued financial woes and gloomy analyst predictions.
With the Treo 755p already reaching End-of-life status on Verizon, the Treo 680 and 750 quietly dropped from Palm's active lineup, and the Treo 700wx and 800w rumored to be headed for extinction soon, Palm looks to be heading into 2009 in serious lean and mean fashion. The Centro and the Treo Pro, both in GSM and CDMA flavors, look to be Palm's mainstays heading into 2009. Alongside, of course, whatever is unveiled in Las Vegas at CES.
Previous years in review:
2007, 2006, 2005, 2002, 2001.
Article Comments
(75 comments)
The following comments are owned by whoever posted them. PalmInfocenter is not responsible for them in any way.
Please Login or register here to add your comments.

Only the first 50 comments are displayed within the article.
Click here for the full story discussion page...